For many people, eating a steak without steak sauce to accompany it is a form of blasphemy, because who doesn't love the tangy yet savory taste of steak sauce coating your delicious steak. 
While some simply choose to use their steak sauce for dipping, others marinade their steak in the stuff, no matter which way you decide to use it, there's no doubt that it enhances the flavor of steak tenfold. 
This is exactly why the feeling of having no steak sauce to go with your steak can be so devastating, especially if it's your go-to condiment for steak. 
Thankfully, we're here to provide you with a list of great steak sauce substitutions that'll be sure to keep you satisfied, even if you do miss your steak sauce! 
So, let's take a look at five of the best steak sauce substitutions that you can try out instead.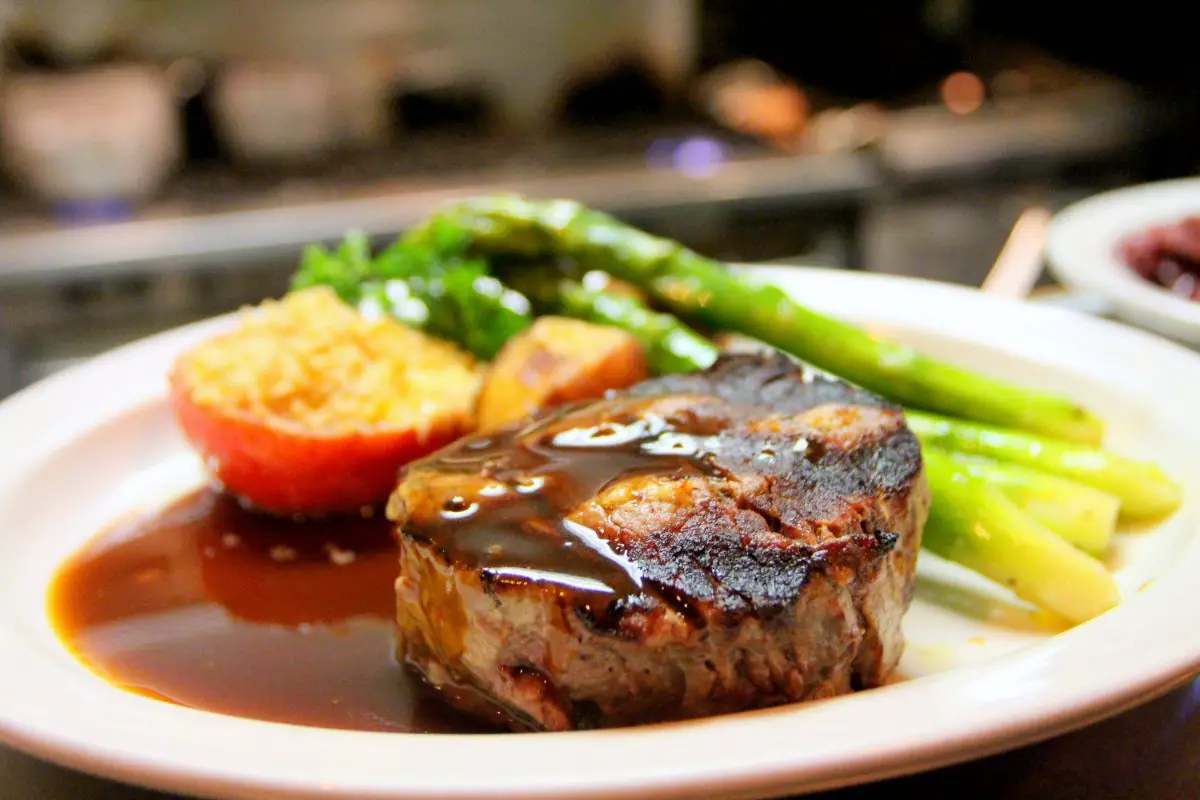 What Is Steak Sauce? 
Made from a combination of tomatoes, vinegar, sugar, and spices, steak sauce is one of the most popular condiments to accompany this meaty dish, and for many, is an absolute must on any steak dinner. 
The taste of the sauce can vary from brand to brand, or if it's homemade, the quantities of ingredients used.
However, as a whole, steak sauce is savory with acidic undertones and a hint of tanginess that just pairs perfectly with the meat. 
You can use this sauce to help boost the flavor of stews, other sauces, and gravy too, but of course, most people simply use it as a marinade or dipping sauce for their favorite steak cut. 
Although it's good with steak, it can also be used with fish, chicken, or even pork, so the possibilities are endless with this sauce. 
This is exactly why so many people panic when they run out of stuff. Thankfully, we have a list of substitutes that are going to be sure to please your taste buds. 
The Best Steak Sauce Substitutes
While running out of steak sauce might feel like the end of the world, these five substitutes make for great replacements, and will even help to expand your palate too, so if you're considering trying something new, definitely check out this list! 
1. Barbecue Sauce
Barbecue sauce is made from a similar combination of ingredients as steak sauce, which is exactly why it draws so many comparisons in the first place, so it only makes sense for it to be the first substitute we included on this list. 
This incredible condiment is commonplace in supermarkets everywhere, which means that while they might have ran out of steak sauce, the barbecue sauce should still be available for you to buy instead. 
Consisting of tomato paste, vinegar, sugar, spices, and occasionally, liquid smoke, barbecue sauce is renowned for the tangy and smoky flavor it brings to your taste buds. 
Much like steak sauce, this condiment is used not only as a dipping sauce, but also as a marinade for chicken, pork, and of course, steak. 
There's honestly a good chance that you already have a bottle of barbecue sauce in your refrigerator or pantry already, which is exactly why it makes for such a good replacement sauce. 
So, the next time you run out of steak sauce to add to your dinner, why not consider a helping of barbecue sauce to accompany your juicy steak instead? 
2. Worcestershire Sauce 
Looking for a sauce that has a history as rich as its flavor, then look no further than the delicious taste of Worcestershire sauce.
Originally created all the way back in the 19th century, this sauce was created with the intention of marinating meats, although nowadays it is used for a whole variety of different dishes. 
The reason why Worcestershire sauce has such a distinctive flavor is thanks to the inclusion of anchovies, which are a salty fish that help to boost the flavor of the sauce tenfold. 
Other ingredients in the sauce include garlic, onions, and vinegar, which creates the incredible flavor of Worcestershire sauce that we all know and love.
The depth added from Worcestershire sauce is down to its complex flavor that people simply adore. 
Much like barbecue sauce, Worcestershire sauce has become a staple in kitchens all over the world, which makes it a great replacement for those who have ran out of steak sauce! 
3. A-1 Sauce
Another sauce with a long history is A-1 sauce, which was first made in England in the early 19th century, and was created by the first ever Lord Mayor of London, Henderson William Brand.
The sauce was immensely popular almost immediately upon its release and as a result made its way to America, where it has remained a staple ever since. 
The original recipe of A-1 has been preserved since then, and it is still made as it was over 200 years ago, which is part of its popularity all over the globe. 
Chances are you will have enjoyed A-1 sauce on top of a hamburger or with steak before, as its incredible taste marries well with succulent beef, no matter what form it takes. 
As a result, using A-1 sauce as a substitute for steak sauce should you run out is a good idea, and is one that you'll be sure to enjoy! 
4. Teriyaki Sauce 
For those of you who prefer to use steak sauce as a marinade for your steak as opposed to a dipping sauce, then one of the great substitutes out there is Teriyaki sauce, which is incredible when used to marinade a nice succulent steak cut. 
Composed of mirin, sugar, and soy sauce, teriyaki sauce is known all over the world for its savory yet sweet flavor, which will be soaked up perfectly by the steak when used as a marinade. 
In addition to the incredible taste, it'll also help moisten the steak and tenderize it too, making it even more tender and juicy than it was before! 
Whether you decide to purchase ready-made teriyaki sauce, or make your own at home, it makes for a great addition to any steak dish. 
If you're making your own, you can even add some red chili flakes to increase the heat should you wish, but no matter how you have it, teriyaki sauce makes for an excellent steak sauce substitute. 
5. Oyster Sauce
Found throughout many Asian dishes, Oyster sauce is a common enough condiment to see at most supermarkets, and because of its unique flavor profile, it's easy to see why it's so popular all over the world. 
The sauce is both creamy and thick, and features a distinctive umami flavor that makes it perfect for using alongside juicy meats such as steak. 
You can make your own or opt for a store-bought sauce, depending on how much effort you're willing to put into your cooking. 
Final Thoughts
There you have it, our guide to the five best substitutions for steak sauce. If you ever run out of steak sauce, you'll now know what to use instead, enjoy!
No Steak Sauce? No Problem – Try These 5 Tasty Substitutes
Course: Substitutes
Spice up your steak dinner with these 5 mouthwatering substitutes for steak sauce. From tangy marinades to savory rubs, we have the best alternatives for you!
Ingredients
Barbecue Sauce

Worcestershire Sauce 

A-1 Sauce

Teriyaki Sauce 

Oyster Sauce
Directions
Decide on what substitute you need
Pick a substitute from the list above
Read what you need to substitute with
Create the recipe and enjoy