There's a reason why the Korean word "bulgogi" translates to "fire meat"!
It's a Korean barbecue sauce that's used as a marinade for grilling. Traditionally, it's most commonly used as a marinade for beef, but it can also taste really good on the likes of pork and chicken as well.
It has an excellent combination of ingredients that result in a flavor that's both savory and sweet, with a distinct hint of spice.
And you know what? When you're getting tired of the same old bland foods all the time, some bulgogi sauce marinade could be exactly what you're looking for.
But not everyone has the luxury of owning a bottle of bulgogi sauce that they just happen to have at their disposal in their kitchen or pantry. Which is why we've put this article together…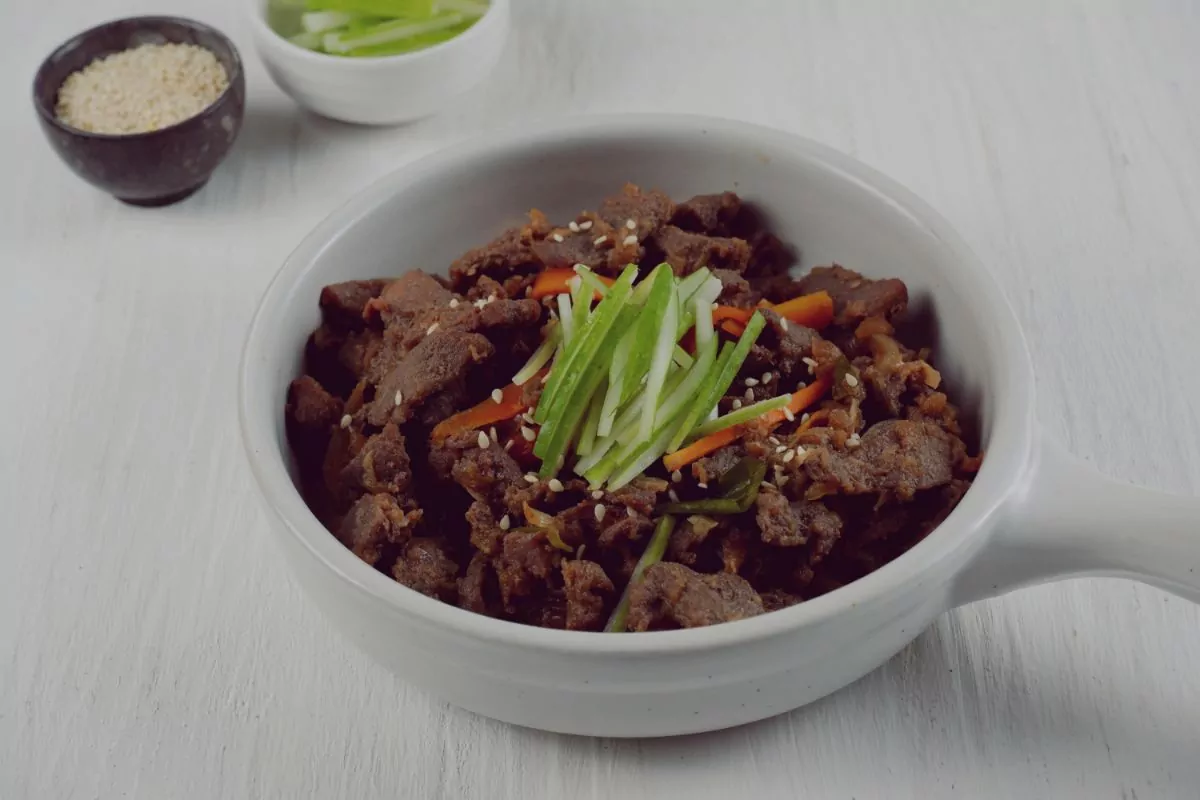 Coming Up
In this article, we're going to talk a bit more about what bulgogi sauce is, before following that up with a walk-through of what we believe are the 6 best substitutes to use in place of bulgogi sauce.
And without further ado, let's get straight to it!
What's Bulgogi Sauce?
Origin And Popularity
As mentioned earlier, bulgogi sauce is a Korean barbecue sauce that's predominantly used as a marinade for grilling, with a sweet and savory flavor.
It's believed to have been around since the Goguryeo Dynasty, though it didn't find its heyday until the Joseon Dynasty when it was frequently served at royal banquets.
It's still around to this very day and is now considered one of Korea's national dishes.
Ingredients Included
It's typically made with several ingredients, including the likes of Korean chili paste known as gochujang, mirin, which is a rice wine, soy sauce, brown sugar, garlic, green onions, and sesame oil.
Uses Of Bulgogi Sauce
When made, bulgogi sauce is quite thick and sticky, which really helps to adhere the marinade to your meats when they go on the grill gates.
Once your marinated meat has been grilled, which would traditionally be beef, but you could also use chicken or pork, then it is traditionally served with vegetables and rice, or alternatively with some kimchi wrapped in lettuce leaves.
However, it can also be used for bibimap as a filling, or as an ingredient in other Korean dishes.
The 6 Best Substitutes For Bulgogi Sauce
Now that you know what ingredients typically make up bulgogi sauce, you could go ahead and try making it yourself, adjusting the proportions according to your personal preference.
If you live outside of Korea, however, you may struggle to get hold of some of the ingredients, such as gochujang (Korean chili paste), or even mirin (rice wine).
But there's no need to worry – with a little tinkering and substitution, you can get a similar flavor by using one of the substitutions mentioned here.
And, you may even find that you prefer one or more of these substitutions to bulgogi sauce itself!
Here follows our top 6 substitutes for bulgogi sauce. (They aren't listed in any particular order.)
1 . BBQ Sauce
Since bulgogi sauce is basically a Korean barbecue sauce, it should come as little surprise that an excellent substitute for it would be…
Another barbecue sauce. American barbecue sauce is something of a staple. The best ones have a thick and sticky texture that's perfect for slathering onto meats like ribs and such before grilling.
Barbecue is generally already sweet and tangy, and you only have to add very few ingredients to get to do a great job of imitating bulgogi sauce…
All you have to do is mix the barbecue sauce with some brown sugar, sesame oil and soy sauce. Which, incidentally, are all quite easy ingredients to get hold of.
The way we recommend using it is much the same way you would use traditional bulgogi sauce. Simply use it as a marinade for your meat overnight.
And the following day, you'd simply grill the marinated meat to perfection. Or, in other words, exactly how your dinner guests like it best.
2. Teriyaki Sauce
Teriyaki sauce is a popular condiment in Japan, and is fast becoming ever more popular elsewhere, too. And like bulgogi sauce, it's frequently used to add flavor to different grilled meats. And baked meats as well.
It also has quite similar ingredients to bulgogi sauce. For instance it's got soy sauce, mirin and sugar. And it's also got sake.
The result is a thick sauce which is easy to coat the meat with, and this helps the meat to retain its moisture while cooking.
You can use teriyaki sauce as a 1:1 substitute for bulgogi sauce in any Korean dishes you want to make…
However, please bear in mind that despite being made of such similar ingredients, and their sweet yet also sour effect, teriyaki sauce does have a more pungent flavor.
For this reason, you may wish to temper the teriyaki sauce with additional seasonings so as to temper the flavor.
3. Sweet And Sour Sauce
Sweet and sour sauce is a mainstream sauce in Chinese cuisine. It's a versatile sauce that can be applied as a marinade for meats, or as a stir fry sauce, or as a dip for fried meats.
It has a variety of different ingredients, where there's sweetness from sugar, combined with the sour, tangy taste of vinegar.
So, since it has both sweet and sour flavor profiles it has good potential as a substitute for bulgogi sauce.
However, if you decide to substitute sweet and sour sauce for bulgogi sauce, you should bear in mind that different sweet and sour sauces can have different flavor profiles.
You can either use a sweet and sauce that you already know you like the taste of, or alternatively, make your own, and adjust the proportions of sweet and sour ingredients, taste testing as you go along, until your happy with the results.
4. Hoisin Sauce
Hoisin is another sauce of Chinese origin, and it too has a sweet and sour flavor. It's also a thick and sticky sauce that's ideal for slathering onto meats to retain their moisture while cooking.
It has several ingredients in common with bulgogi sauce, which is another reason why it makes a good substitute. There's sugar, vinegar, garlic, chili, and more.
The only thing you need to remember with substituting hoisin sauce for bulgogi sauce in your recipes is that bulgogi is generally a more savory, and thinner sauce.
For that reason, we recommend adding a little water to think it out, and maybe adding other seasonings, such as salt or pepper.
5. Kalbi Or Galbi Sauce
Like bulgogi sauce, kalbi and galbi sauces are also Korean sauces that are used to marinade meat.
It has a sweet yet also savory taste, and features many of the same ingredients as bulgogi sauce, such as soy sauce, rice wine, and sesame oil.
It also has honey, which is perfect for giving the sauce the kind of thickness and stickiness that makes it excellent to coat meats with, and a nice kick of garlic.
To use, simply replace the bulgogi sauce 1:1 with the kalbi or galbi sauce, and marinate the meat for a minimum of an hour before cooking for best results.
6. Japanese Tamari
Tamari is an interesting sauce. It's basically a byproduct in the production of miso paste, but it's different from regular soy sauce since it's made with a higher volume of soybeans.
This results in a thickly textured sauce which has a deep, rich umami flavor. Think smoky caramel.
It's typically used in Japanese cuisine as a dipping sauce for the likes of sashimi or tofu, and as a marinade for meats.
It's often compared with soy sauce, which is manufactured in a very similar way, but it's less salty than soy sauce.
It makes a great substitute for bulgogi sauce as a meat marinade, and it also happens to be naturally gluten-free.
Wrap Up
I hope you've enjoyed browsing through our round-up of the best substitutes for bulgogi. If we had to pick favorites, we'd have to choose barbecue sauce.
And the great thing about barbecue sauce is how easy it is to come by here in the US, which is perfect when you haven't got time to order in.
You can just nip out to your local grocery store, or you may already have some waiting to be used in your pantry cupboard.
Bon appétit!
The 6 Best Substitutes For Bulgogi Sauce
Course: Sides
Ingredients
BBQ Sauce

Teriyaki Sauce

Sweet And Sour Sauce

Hoisin Sauce

Kalbi Or Galbi Sauce

Japanese Tamari
Directions
Decide on what substitute you need
Pick a substitute from the list above
Read what you need to substitute with
Create the recipe and enjoy