There's nothing better in the blazing hot heat than throwing some shrimp on the barbeque, I can guarantee you that. So as grilling-season approaches, you might want to start busting out your very best shrimp skewer recipes.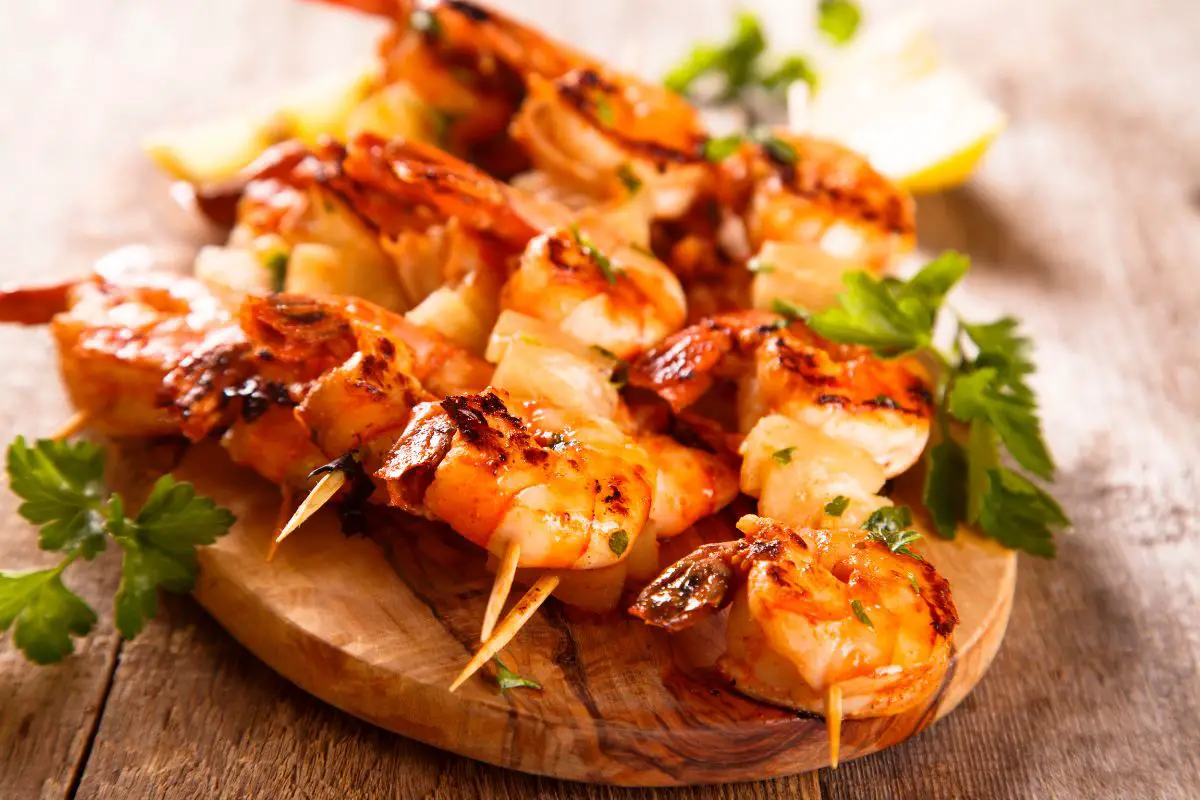 There are very few cons to this tasty treat, the only one I can really think of is that it probably won't satisfy rumbling bellies all by itself. And since you don't want to leave your guests hungry, you'll need to whip up some equally delicious sides. 
Thankfully, there isn't anything quite as versatile as good old shrimp skewers. It's pretty hard to pair them with something that doesn't compliment them.
In fact, I'd hedge my bets that you probably already have enough ingredients in your pantry to make a quick, easy, and scrumptious side for your skewers. 
But if all that choice is leaving you a little overwhelmed, never fear, that's what I'm here for. Below you'll find all the inspiration you need. Keep reading to check out the best sides to make with shrimp skewers. 
The Best Sides To Serve With Shrimp Skewers
You can never go wrong with some sauteed tomatoes. They'll ensure that with each and every bite you get a burst of juicy flavor. And you'll never see me turning down garlic. Garlic makes everything better! 
This will give your shrimp skewers that extra burst of flavor that just keeps you coming back for more. You really want to make sure that you let all the juice from the tomatoes get right in the oil and allow all those herby flavors and garlic to all infuse together. 
The result will be the most aromatic and appetizing sauce that you'll ever have the privilege of trying. Don't forget to use your shrimp to mop up that herby sauce – you won't regret it. 
And to pack even more of a punch, why not try adding a little spinach to the mix? 
This salad is so good that I could easily eat it as a main meal, but it makes a perfectly great side too. This healthier take on mac and cheese substitutes the milk and cheese for your favorite veggies and a scrumptious salad dressing. 
And it makes the perfect barbecue side dish that pairs with shrimp fantastically. 
You can follow the recipe to a tee, or if you'd prefer to be a little more adventurous, you can always pick your own vegetables and dressing.
Whichever you decide, just make sure you've drained all the water from your pasta before adding your extra ingredients. I like to grate a little cheese on the top of my pasta salad too. 
The salad is crunchy and somewhat acidic which couldn't be a better combination for the soft and chewy shrimp you'll serve it with. It counteracts and balances all the ingredients and ensures a variety of textures in each mouthful.  
Plus it's easy to make the night before which means less stress come the big day of grilling. 
Potato salad is a staple side dish of any grilling session or picnic so it's unsurprising that it has made its way to this list. And I'm here to let you know that shrimp skewers and potato salad are a match made in heaven. So delicious. 
Remember, your recipe only needs to act as a guide. You can always add or substitute ingredients to make it fit with the flavor of your shrimp. Opt for different veggies if you wish. Or why not add cheese to give it that extra creaminess? 
For those who are dairy-free, some extra seasoning is sure to spice up your salad without adding ingredients such as cheese or butter. 
 When someone first served me coconut rice with shrimp, I must admit I was a little apprehensive. For the life of me, now, I can't understand why. Obviously, it works amazingly well. It has a very Caribbean-like flavor profile. 
I was fully converted after my first try – coconut rice and shrimp for life!
So the next time that you serve up those succulent shrimp skewers, do yourself a favor and ditch the bland and boring rice and try coconut rice for something a little different and far fresher. 
If you really want to go all out, you could even add the addition of nuts or dry fruit such as raisins. Or if you want to delight your guests, why not stick to tropical tastes and throw in some mango slices? 
If you're looking for something that is going to be equally healthy as it is delicious, then you can't go wrong with this delectable dish.  
Now, I always get a few panicked or questionable looks when I serve this side. Probably because Quinoa has quite the reputation for being pretty bland and dry.
But all it takes is a little bit of TLC and it can be transformed into one of the most scrumptious sides to ever exist. 
You'll also be surprised at just how well this dish complements shrimp skewers. For those looking to cut back on the carbs this is the perfect alternative for a rice-based dish that will ensure a busting belly. 
There are many ingredients you might instantly think to pair with some roasties, but lime, I bet, isn't one of them. Well, you'll never look back after trying these buttery potatoes drizzled with that citrusty tinge. 
I'd advise throwing in some garlic too to give it that extra aroma and addictive taste. This twist on your regular roast potato was made to be paired with soft and scrummy shrimp skewers. They complement each other so well. 
Coleslaw is a side staple. It goes well with pretty much anything and everything. But to make it really work with those succulent skewers, you're going to want to divert away from the more traditional recipe. 
Enter the vinaigrette-based coleslaw. 
You'll ditch the mayo for a dressing that really packs a punch and leaves a great aftertaste that pairs with your shrimp fantastically. Since your shrimp will be quite soft, the crunchiness  makes for a more interesting texture.
And the fresh and slightly acidic flavoring means that it'll also act as the perfect palate cleanser! 
If you've already got the grill going for your shrimp skewers, why not keep it on a little longer to prepare some scrumptious corn on the cob too? 
You can keep it simple and stick to salt, pepper, and a healthy coating of butter. Or, you could opt to spice things up a little bit. A chipotle lime mayo smothered over the cob will give it a fun kick along with a nice hint of acidity that will work wonders with the shrimp. 
Alternatively you could also opt for a hot chili oil for those that can hack their spice, or a herbed buttermilk ranch for those that prefer a cooler accompaniment. 
Whichever you choose, it's really hard to go wrong with this beloved veggie. It's easy to serve and even easier to munch down on. It'll add a great crunchy texture to an otherwise quite soft dish. 
Final Thoughts
Since shrimp skewers are a pretty versatile main meal, finding a complementary side dish is quite an easy task. If anything, it's only made difficult by the overwhelming amount of choices.
The hardest part of the whole process will be deciding which of these scrumptious sides you want to opt for. 
But regardless of your choice, you can rest assured that it will taste amazing. And hey, if you're having a hard time picking just one, why not make a few? It's your meal and there's no rules to how many sides you can serve.
Pick a few of your favorites and let your guests choose which ones they want to taste and trial. 
You can bet that you'll definitely have guests begging for your recipes and giving their complements to the incredibly talented chef. So what are you waiting for?
Get your ingredient list ready and head to the stores so that you can begin creating the best meal that your guests will have ever had the privilege of trying! 
8 Best Sides For Shrimp Skewers
Course: Sides
Directions
Pick a recipe from above
Click the recipe name and visit the website
Collect the ingredients and the food
Enjoy- don't forget to leave a review