Even the most dedicated steak lover might be surprised to learn about picanha. This steak cut is hugely popular in Brazil, but has yet to gain the international recognition it deserves.
If you're looking for a steak with a big meaty flavor that's perfect on the barbecue, give picanha a try.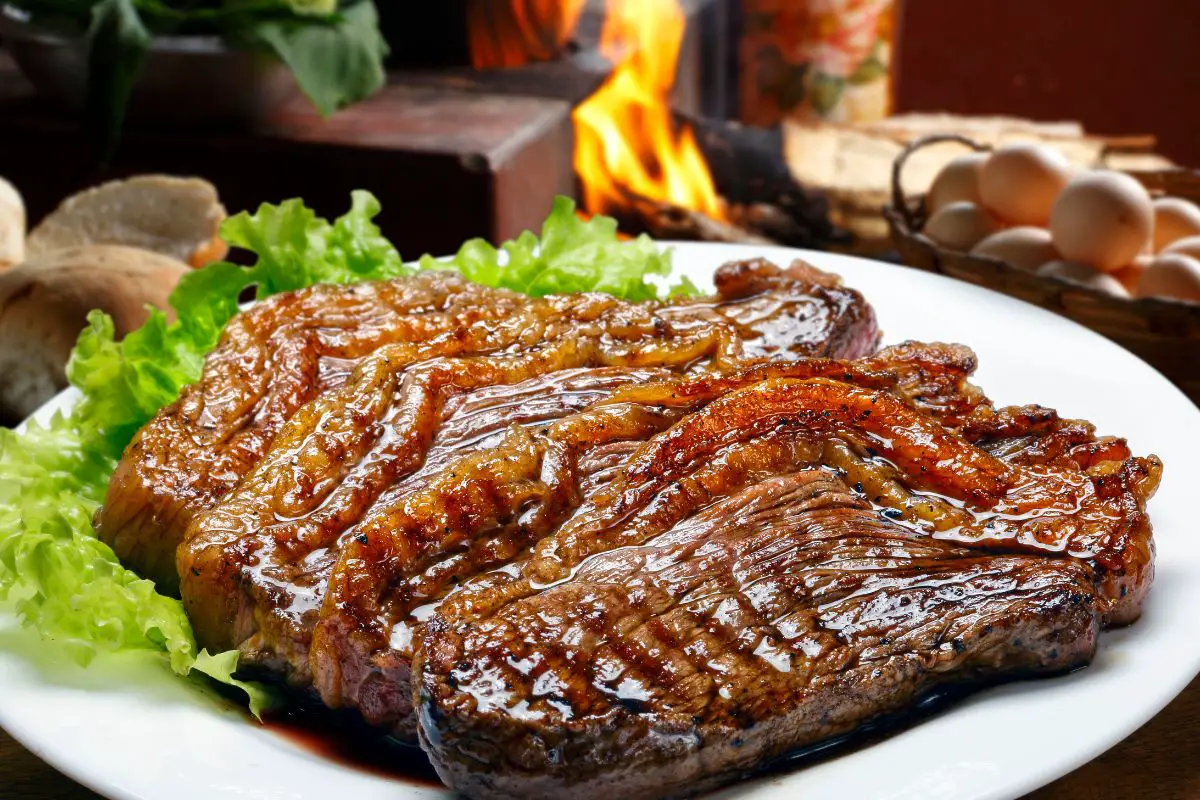 Picanha is taken from the top of the rump, and is traditionally quite small. If you see a big picanha steak, it likely contains other cuts!
Look for a sizable fat cap, to ensure that tender finish. In Brazil, picanha is often folded and skewered, then cooked over the barbecue.
Interested in trying picanha? Then you probably want the right side to go with it! In Brazil, people eat picanha at a churrascaria, or barbecue, with a huge range of sides.
At home, we recommend looking for Brazilian flavors, to complement this powerful cut of beef!
Why Serve A Side With Picanha?
Juicy and delicious, you might think you can serve picanha all on its own. And while the meaty taste does hold up well when enjoyed solo, you're likely to want something extra to contrast the heavy taste of the steak. 
Picanha has a bold and powerful flavor, with that rich umami taste you can expect from sirloin.
It's delicious, but it can be a little too much when you don't have anything to offer balance. A sharp sauce with a mild carb is often the best pairing for picanha. 
So, whether you're planning a romantic dinner, a celebratory barbecue, or you're just curious about a new cut of meat, picanha is best served with a side.
8 Amazing Side Dishes To Serve With Picanha
Here are some of the most delicious side dishes to serve with picanha.
In Brazil, rice isn't a plain side dish that's used to soak up the flavor of your main meal. Instead, Brazilian rice brings its own tastes to the plate!
Seasoned with onion, garlic, and salt, arroz Brasileiro helps enhance the flavors of your picanha steak!
Arroz Brasileiro is one of the easiest side dishes to accompany your picanha. You begin by sautéing onion and garlic, before adding your washed rice to the same pan.
Pour on the water, add some salt, cover, and cook. The rice simmers over a low heat, absorbing the flavors surrounding it. 
No trip to the steakhouse is complete without a basket of bread, and if you want to recreate the restaurant experience, you need something to mop up the juices.
Pao de queijo is the perfect accompaniment to a perfectly cooked picanha steak, and this Brazilian dish adds to your South American feast!
Pao de queijo is essentially a pate a choux, but if you aren't a confident pâtisserie chef, don't worry. The soft cheese bread is surprisingly easy to throw together.
The key ingredient is tapioca flour (plus lots of cheese), which you may need to buy online.
Farofa is going to sound strange when you first hear about it, but this Brazilian side dish is a must at any churrascaria. 
Farofa is made using cassava flour, sometimes known as yuca flour. It's really quick and easy to throw together. Start by frying bacon in a cold skillet, using lots of butter.
Add some onions, then some garlic, and when fragrant, stir through the flour. This toasts for around two minutes, absorbing all those flavors in the pan.
Sprinkled over your picanha, farofa brings a mild taste and an incredible texture. Once you've started eating food with farofa, you'll wonder how you ever lived without this quintessential Brazilian side.
Fries are always a traditional pairing with steak, but if you want to enhance your Brazilian feast, try making polenta fries instead.
Made using cooked and set polenta, these fries require a bit of advance planning, but the end result is worth the effort.
Polenta is a type of ground cornmeal that, when cooked in water, turns into a creamy porridge. So, you might be wondering, how does a soft mush ever become fries?
Spread thin and left to cool overnight, polenta sets to a firm texture. This can then be sliced, and fried in hot oil. Finish with a pinch of salt and a sprinkle of Parmesan cheese, and enjoy with picanha and Brazilian salsa.
While many of us associate Brazilian sides and sauces with chili, molho a campanha is a little different. You can add some spice if you want, but this dish is traditionally served with zing and aroma, rather than heat.
Molho a campanha is similar to Mexican pico de gallo — a chopped salsa made from onions and tomato. But molho a campanha uses white wine vinegar instead of lime juice, and avoids any chili.
To make molho a campanha, dice equal amounts of tomato, red onion, and green bell pepper. Add olive oil and white wine vinegar, finely chopped cilantro, and finish with salt and pepper.
Mix everything together, and leave your salsa to sit in the fridge before serving.
Molho a campanha has a gentle aroma and a zing of acidity. The crunch balances the tender meat of picanha. Pile the salsa on top of your steak, and enjoy!
If you're planning a romantic evening, couve a mineira is the ideal side for your picanha steak. It adds freshness and crunch to the table, balancing the steak while leaving plenty of room for dessert.
You only need one more side dish to make this meal complete — a fresh pour of Merlot!
Couve a mineira is a Brazilian collard greens recipe. The collard greens are washed and sliced into strips (with the ribs removed), then boiled until their brilliant green appears.
Next, fry bacon in a skillet until brown. Add your drained collard greens to the skillet, along with onion, sea salt, and garlic.
Within 10 minutes, the flavors will have combined to create an enticing aroma, and a delicious accompaniment to steak.
Serve immediately, with seared picanha, red wine, and a basket of pao de queijo.
Chimichurri actually hails from Argentina and Uruguay, but you're likely to find it on the menu at any Brazilian barbecue.
This sauce packs a lot of zing and a heavy punch of flavor, cutting through the savory meat and leaving you wanting more. 
Olive oil is the base of chimichurri, and it gives it a rich and oily texture that's delicious with a heavy steak. Then, add plenty of finely chopped parsley.
Olive oil and parsley are added in roughly equal amounts, creating this aromatic flavor profile.
Throw in some sliced garlic, chili for heat, a dash of salt and pepper, and a glug of red wine vinegar (lemon juice will do, in a pinch).
Now for the hard part — leave it to sit. In time, the flavors will develop, and you can decide if your chimichurri needs a touch more of anything.
When you're happy with the taste, you can leave it chunky, or blend it to a purée. 
If you're feeding a crowd at a summer barbecue, make sure to add picanha to the menu! Picanha is generally the most popular meat at the churrascaria, after it's been folded, skewered, and seared over the flame. 
Brazilian potato salad is the perfect side dish for a barbecue or potluck where picanha is being served. It's simple, filling, and a real crowd pleaser.
On a hot day, a scoop of Brazilian potato salad will cool you down as you wait eagerly at the grill for a freshly cooked picanha steak!
So, what makes Brazilian potato salad so good? Brazilian potato salad has one (not so) secret ingredient — cooked carrots!
Chopped into chunks, the carrots are cooked alongside the potatoes. As the potatoes go soft, the carrots maintain some give. It plays with the textures, adding a new dimension to your steak and potatoes.
Once everything has cooled, you can stir through your mayonnaise and add a handful of chopped, fresh parsley. 
Final Thoughts
Picanha is a classic steak dish, which means there are plenty of side dishes that act as an excellent pairing.
If you're planning a Brazilian barbecue feast, we recommend trying as many sides as possible! Look for traditional Brazilian flavors, to accentuate this meaty and tender cut of beef. 
8 Delicious Side Dishes To Enjoy With Picanha
Course: Sides
Picanha is a meaty and tender steak that's popular in Brazil. Want to try cooking picanha at home? Find the perfect picanha side dish with this guide.
Directions
Pick from the list above
Click the recipe name and visit the website
Collect the ingredients and cook the food
Enjoy – don't forget to leave a review