There is nothing more frustrating than getting every ingredient you need ready to prepare a cocktail, and then realizing you are missing one.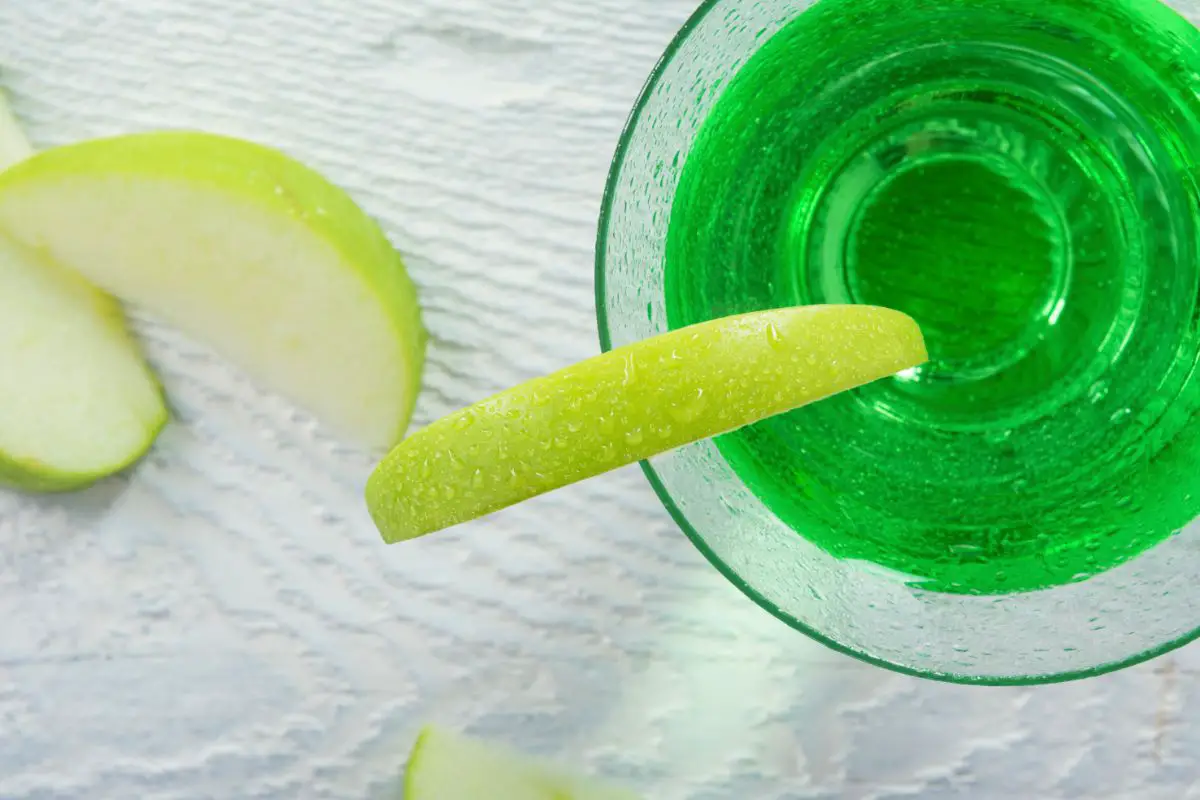 Or, when you go to the liquor store in advance to buy the ingredients for that cocktail, but they're out of the one drink that you require. Midori is a fantastic component to give sweet melon flavor and a crisp green tint to many cocktails.
It is frequently used in the traditional 'Melon and Vodka' drink, as well as a whole other bunch of popular cocktails. There are a few substitutes that could assist generate flavors that are comparable to melon liqueur, even if nothing can fully match it.
There are several excellent substitutes for Midori that you can use in cocktails, and we've listed them in this article. So, let's get started! Here are 6 ways that you can substitute some Midori in your colorful cocktails.
What Is Midori Liqueur?
A melon-flavored liqueur with an easily recognizable name, Midori is sold in a vivid, lime green bottle that can be seen behind numerous bars all around the world. 
First produced and distributed in Japan back in 1964, Midori is a fruity liqueur created with some grain spirit infused with yubari and muskmelon, along with a little sugar and brandy.
Two different kinds of Japanese melons are what give the flavor it's delightfully sweet taste. Midori is a flexible liqueur that works well with many flavors and can be utilized for creating amazing green-colored cocktails.
It is currently regarded as a must-have liqueur for every adequately-stocked bar. Despite its opposition, it is still one of the most popular liqueurs ever and a fantastic addition to any cocktail that asks for a melon-flavored alcoholic ingredient.
However, if you are seeking a substitute for Midori, there are a handful of liqueurs that are up to the task.
Your cocktails may not taste exactly the same, but these alcoholic beverages work well as an alternative. Below, we have listed 6 of the greatest substitutes for Midori liqueur.
1. De Kuyper
First on the list, we have a liqueur that may not be green in color, but it still tastes incredible in a cocktail. De Kuyper is the ideal beverage for any special occasion, since it has the right amount of cloying richness and enticing herbal undertones.
This Dutch liqueur has a sweet-spicy flavor due to the meticulous distillation of a variety of fruits and seasonings. De Kuyper is a great alternative to Midori since it has a similar sweetness that adds a nice, sweet finish to any cocktail in which it is employed.
You can experience a distinctive take on the traditional spirit by using De Kuyper in a cocktail rather than Midori.
Only devoted Midori drinkers and professional drink mixers will be able to tell that you're using something different based only on flavor, despite the fact that De Kuypers uses different fruit to manufacture their product.
2. Amaretto
Next up, we have an alcoholic beverage that many people are already familiar with. Amaretto is an Italian liqueur with considerable sweetness and fruity aromas, as well as hints of roasted almonds.
Amaretto is a type of booze that goes well with mixers or in cocktails, but it also tastes fantastic in hot beverages like coffee. It creates a luscious flavor, and an enticing smell that lingers in the environment when poured into a steaming Americano.
Amaretto is frequently used to enhance the flavors of ripe, luscious melon in cocktails for those seeking a Midori liqueur equivalent.
However, Amaretto is weak in the green color department, so if you're searching for something with more color, you might want to pass on this one.
3. Crème De Menthe
We occasionally use Midori to color our beverages rather than just add taste, as it adds a gorgeous burst of green. In these circumstances, flavor is not being added; rather, a liqueur that can produce some brilliant color is being used.
You should try Crème de menthe if you desire something green, but don't like the taste of Midori. Since it is a comparable shade of green, it will work well if your goal is to appeal to the eye.
Cocktails like the Midori Illusion, Midori Sour, or The Leaf taste great when crème de menthe is used as a stand-in ingredient.
The main distinction between the two liqueurs is that Midori tastes like melon, while Crème de menthe tastes like mint. If you aren't fussy about using a different flavor, this may be the substitute for you.
4. Potter's Melon Liqueur
Using solely organic components, Potter's Melon Liqueur is a rich, silky, and delightful liqueur with a melon flavor. It has a lovely fragrance that features intense honeydew melon flavors along with rustic richness and citrusy undertones.
Exceptional melons from Jeju Island, just off the mainland of South Korea, and top-shelf French cognac from Drouet & Fils are what give Potter's Melon Liqueur its distinctive flavor composition.
It is wonderfully delicate, smooth, and luscious on the taste buds, and is ideal for enjoying neat, or over some ice. Due to the flavors' similarity, it can also be used in cocktails as a replacement for Midori.
Additionally, it has a color that is comparable to Midori, so you can substitute it for flavor and color.
5. Still Spirits Melon Liqueur
Give Still Spirits' melon liqueur a try if you want to make some green-colored, melon-flavored drinks but don't have any Midori on hand.  
With the addition of syrup and water, this convenient melon essence, which has a subtle honeydew flavor reminiscent of Midori, tastes well in daiquiris and margaritas. With this liquor, you may make a wide variety of vibrant, fruity drinks, making it perfect for the summer.
However, you might want to remember that the melon liqueur from Still Spirits is significantly more bitter than Midori. So, to make it sweeter before consumption, you might wish to add some syrup or lemon juice to the mixture.
6. Bols
To end this list, we have Bols. With an initial foundation of neutral grain spirit, this liqueur brand is strongly flavored with spices, aromatic herbs, fruits, and nuts to produce a diverse yet potent flavor composition.
This liqueur is the ideal accent to any cocktail or beverage because it is sweet yet just a little bit harsh. It can be used to replace Midori because of its fruity flavors, and it tastes great in margaritas, especially when combined with lime juice and/or simple syrup.
Bols, sadly, does not provide the same level of brilliant green that Midori provides, so if you're looking for that extra pop of color, this might not be the right choice for you. Bols, though, will work if all you need is a flavor substitution.
Final Thoughts
So, there we have it. If you ever find yourself lacking some delicious, juicy melon-flavored liqueur, and you can't find any Midori anywhere, you can use one of these 6 alternatives to add the pop of green coloring to your colorful cocktail.
If you want to stick to the flavor as much as possible, we recommend using De Kuyper over the others. However, each of these drinks are great as a substitute, and we recommend giving each of them a try. We hope you found this article helpful.
6 Ways To Substitute Midori Liqueur
Course: Substitutes
Looking for a substitute for Midori liqueur? Check out these 6 replacements that will give you a similar melon flavor and green hue in your fruity cocktails.
Ingredients
De Kuyper

Amaretto

Crème De Menthe

Potter's Melon Liqueur

Still Spirits Melon Liqueur

Bols
Directions
Decide on what substitute you need
Pick a substitute from the list above
Read what you need to substitute with
Create the recipe and enjoy