The distinctive yellow and red label of Maggi Seasoning is a common sight in many kitchens, particularly for those who enjoy Asian food.
Made from hydrolyzed wheat protein, Maggi Seasoning is a complex sauce known for its salty and rich flavoring.
A spoonful of Maggi can be all you need to take your cooking to the next level. It can add life to soups and stews, complexity to stir-fries, and even bring new dimensions to the barbecue.
So, what do you do when your Maggi Seasoning runs out? We've tested and found 6 of the best Maggi Seasoning alternatives, to add a similar depth of flavor to your food.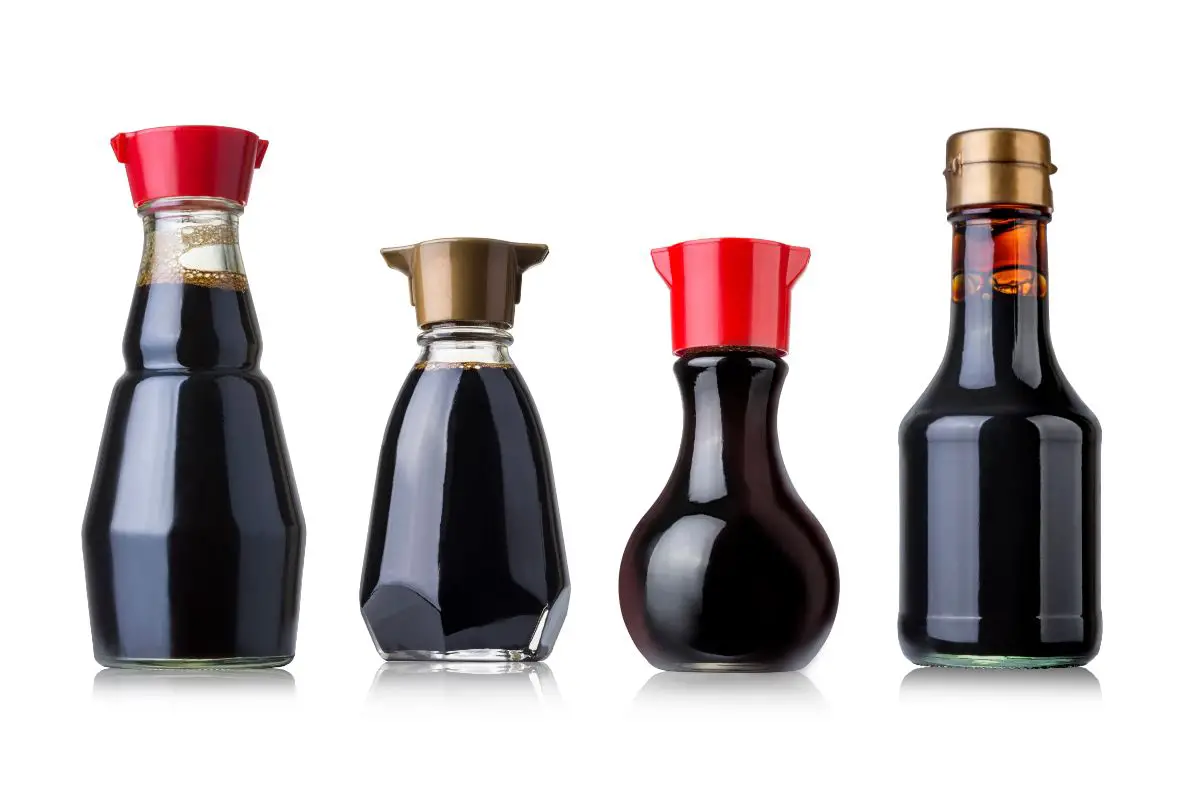 What Does Maggi Seasoning Taste Like?
Maggi Seasoning is a seasoning made from hydrolyzed wheat protein that's often used to add umami flavoring to a variety of Asian dishes.
Despite its popularity in Asian and South American cookery, Maggi Seasoning was actually created in Switzerland in the late 1800s by soup magnate Julius Maggi.
Maggi Seasoning is salty and complex, with a burst of umami that can add depth to dishes. It's quite difficult to describe the taste of Maggi — it's sort of like soy sauce, but with a deeper flavor and an extra richness. 
Available in both liquid and powder forms, Maggi Seasoning can be added to soups, stews, noodle dishes, chilis, and so much more. It basically adds umami oomph to a dish that might be tasting a little simple. When you can't quite get your flavors to spark, an injection of umami can bring a meal to life. 
Which is why running out of Maggi Seasoning is so disappointing! Although Maggi is growing in popularity throughout the U.S., it still isn't as easy to buy as a simple soy sauce.
The 6 Best Maggi Seasoning Substitutes
Need a Maggi Seasoning replacement? These are the best around.
Originating in China, soy sauce is a salty sauce that adds umami flavoring to your cooking. Made from fermented soybeans, soy sauce has more depth than salt, but it isn't a hugely complex flavor palate.
Soy sauce can be used as a quick and easy replacement for Maggi Seasoning. It isn't a perfect match as soy sauce lacks the funky fermentation of Maggi, but this is a quick way to add a similar depth to your food.
Soy sauce can be used as a direct 1:1 substitute for Maggi. However, to avoid over-salting your dish, we recommend starting with a small amount of soy sauce and slowly building flavor. 
The main benefit of soy sauce as a substitute for Maggi is that it's so easy to get your hands on. Soy sauce is widely available across the U.S., and can generally be picked up for a low price.
Soy sauce might have originated in China, but it's become a cupboard staple for many U.S. households. 
Like Maggi Seasoning, Worcestershire sauce has a flavor palate that's difficult to explain.
It's made from a blend of ingredients including vinegar and tamarind, but anchovies, molasses, garlic, and onions all add rich depth to Worcestershire sauce. It's slightly sweet, slightly salty, a touch sour, and all-around impossible to explain.
You can use Worcestershire sauce as a 1:1 replacement for Maggi. The flavor profile will be altered, but Worcestershire sauce can be used to give that same depth to a dish that tastes a little bland.
However, as Worcestershire sauce certainly has its own unique taste, we recommend starting with half the amount, tasting, and building up. Worcestershire sauce lacks the saltiness of Maggi, so you may need to adjust your other seasoning.
The best substitute for Maggi Seasoning is actually a blend of soy sauce and Worcestershire sauce. The soy sauce provides that salty base, while the Worcestershire sauce brings some of that fermented richness.
Mix equal parts soy sauce and Worcestershire sauce, for a fairly accurate mimicry of Maggi Seasoning.
One thing to keep in mind when using Worcestershire sauce is that it isn't vegetarian. Unless otherwise stated, Maggi Seasoning is vegan.
Tamari is sometimes known as the Japanese version of soy sauce. Both are made from fermented soybeans, and both have a salty flavoring that can be used to add umami to your cooking.
There are many similarities between tamari and soy sauce, as well as some key differences. Tamari is thicker than soy sauce and it doesn't have the same intense saltiness.
Tamari and soy sauce can be used in place of each other, but tamari is often preferred for creating dips and dressings, while soy sauce is used for marinades and stir-fries.
If you're looking for a Maggi replacement, tamari is a decent substitute. It can be used as a 1:1 replacement, although the less complex flavoring of tamari means it isn't a perfect substitute.
To improve tamari as a Maggi substitute, try mixing it with Worcestershire sauce. Use a 1:1 mixture to start with and taste as you go. Tamari isn't as salty as soy sauce, so you may need to add a little more to get that burst of salt.
Tamari is gluten-free, unlike soy sauce.
Golden Mountain is a Thai seasoning sauce made from soybeans. In terms of flavor, it's a very close match to Maggi Seasoning, providing a combination of umami and salt that can elevate your Asian cooking. 
Golden Mountain is one of the best substitutes for Maggi Seasoning in terms of flavor. However, Golden Mountain can be hard to get your hands on. If you can't find it in stores, we recommend taking a look online.
Knorr Liquid Seasoning is another branded product with a similar flavor palette to Maggi. This isn't quite as salty as Maggi, but the overall flavor balance is pretty close.
Again, Knorr Liquid Seasoning isn't always easy to find in stores, but if you're looking for a Maggi substitute, it's definitely one to consider. 
Finally, Kitchen Bouquet Browning and Seasoning Sauce is designed to add richness to food and can act as a Maggi substitute.
It's intended to be a quick shortcut to the caramelized flavors of food that has been left to simmer. A quick splash in place of Maggi can add umami to your dinner.
Coconut aminos is a common substitute for soy sauce. It's made from the sap of coconut palm and sea salt, fermented to create a complex flavoring. It's often recommended as a healthier alternative to soy sauce.
Coconut aminos tastes similar to soy sauce, but it contains no soy, wheat, or gluten, making it popular among those on a restricted diet. Coconut aminos also contains slightly lower levels of sodium, so it's a healthier alternative.
There's a slight sweetness to coconut aminos, but it still has that burst of salt you'd expect from a soy sauce substitute. It can be used in place of Maggi Seasoning. However, as coconut aminos has a less complex taste, the replacement isn't perfect.
Sometimes known as beef stock, beef bouillon is a powdered base for broth. When added to hot water, beef bouillon powder become a rich and salty stock. However, the powdered bouillon can also be used as a quick seasoning.
Beef bouillon doesn't have the same consistency as Maggi Seasoning, but it is a good replacement if you're in a bind.
Mix your bouillon powder with just a small amount of hot water for a thicker texture. Alternatively, you can sprinkle some of the bouillon powder into your dish, as an easy seasoning alternative.
There are many types of beef bouillon powder on the market, with varying degrees of quality. However, they should all provide a meaty flavoring punch that can be considered similar to Maggi Seasoning.  
Final Thoughts
Maggi Seasoning has quickly become a staple for many home chefs. With just a spoonful of this complex seasoning you can take a basic dish and turn it into something remarkable.
If you're out of Maggi Seasoning, soy sauce and Worcestershire sauce make the best substitute, but there are plenty of umami-rich alternatives to try!
6 Delicious Maggi Seasoning Substitutes
Course: Substitutes
Directions
Decide on what substitute you need
Pick a substitute from the list above
Read what you need to substitute with
Create the recipe and enjoy