Imagine this: you're preparing for game night, and you want a variety of snacks for your friends to enjoy.
You have potato chips and salsa, but is that enough? What other dips could you possibly pair with your chips?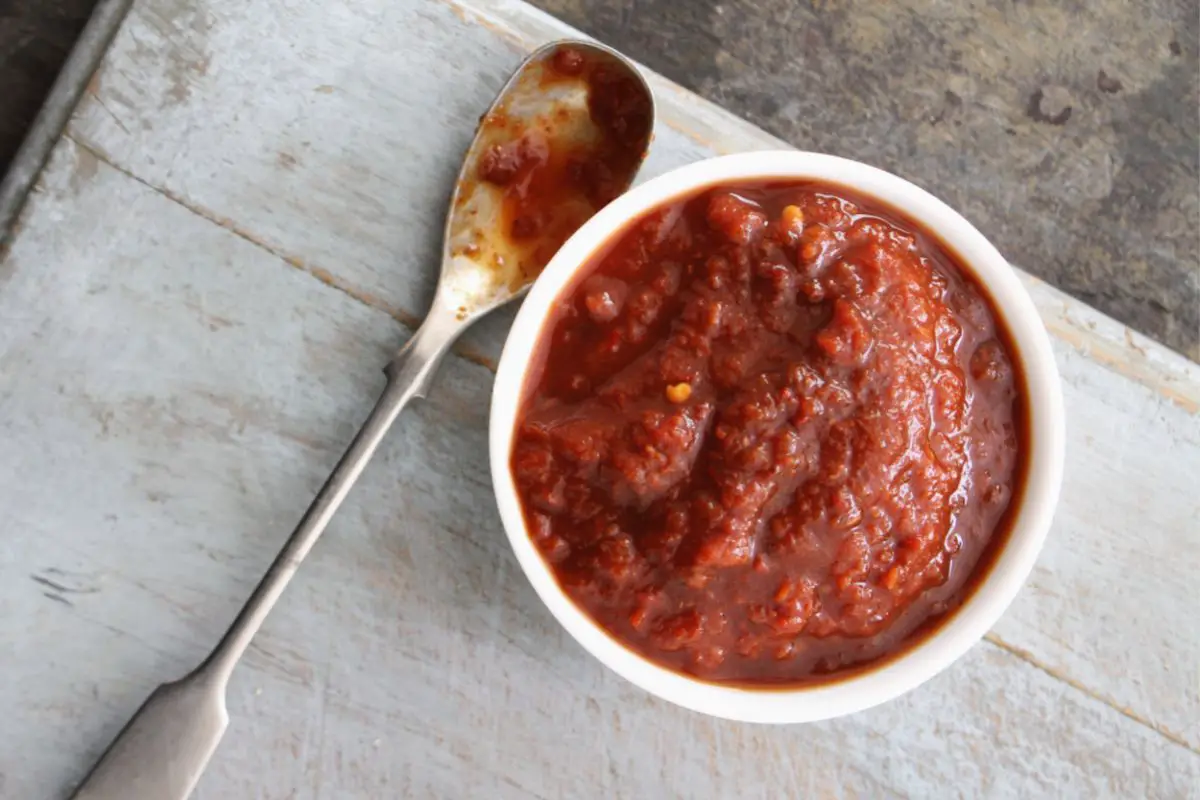 Introducing… honey chipotle! This incredible sauce might not be something you would think of at first, but it's delicious, and it ticks every box. 
But what exactly is honey chipotle? Can you make it yourself? What does it taste like? Which foods and flavors pair well with it?
There are almost endless questions you could ask yourself, and we would like to answer at least a few of them in this article. 
If you want to find out more about honey chipotle, including what it is, what it can be used for, and if you can make it in the comfort of your own home. 
If that sounds good, just keep reading! We will cover everything you need to know. 
Honey Chipotle: What You Need To Know About it
What Exactly Is Honey Chipotle?
As the name suggests, honey chipotle does include honey, which adds some delightful sweetness to the overall sauce. However, what people may get confused about is the 'chipotle' part of the name. 
Chipotle is simply the name given to jalapeño peppers that have been ripened, then dried out and smoked.
Doing this adds a lot of depth and flavors to the peppers, making it an exquisite option for sauces of all types. 
These peppers, especially in their chipotle form, are very popular in Mexican cuisine, and Tex-Mex cuisine.
They are rich in flavor and can get super hot, so be prepared for it to pack a punch if you ever get your hands on some!
A regular chipotle sauce is typically a combination of the dried and smoked chipotle peppers and adobo sauce.
However, honey chipotle is a little different, and honey is added to the mix to add more depth and sweetness. This doesn't always make it any less spicy, though!
How Is Honey Chipotle Used In Cooking?
Honey chipotle can be used in lots of different ways in the kitchen.
Thanks to the unique blend of flavors and variations of it, some people like to use it as a salad dressing, while others will use it on chicken wings or other similar dishes. 
You can use honey chipotle, or any other chipotle, for marinating and glazing dishes, or just as a dipping sauce! 
There are no real rules that you need to follow with this sauce, so do whatever you would like. Do not be afraid to try honey chipotle with rice dishes, or even mashed potato and pasta.
Any kind of carb dish will work wonderfully with this and add lots of delightful flavor.  
What Does Honey Chipotle Taste Like?
This mesmerizing sauce has a little bit of everything: spicy, sweet, tangy, and smoky.
You might notice some similarities between honey chipotle and various other BBQ sauces, but there are some great differences you will appreciate, too. 
What does what, exactly? It's simple. 
You get the lovely spiciness and heat from the dried and smoked jalapeño (chipotle) peppers. 
That divine sweetness will come from the honey added. 
The tanginess will come from the vinegar that gets added to the mixture!
Just be aware that there will be lots of varieties of honey chipotle sauce, just like there are different kinds of regular chipotle sauces.
Depending on the brand, flavors might be different, so be sure to shop around to try different ones and find your ultimate go-to. 
Can You Make Your Own Honey Chipotle?
Yes! You can absolutely make your own honey chipotle, and might even end up being better than the store bought stuff. 
In our opinion, everything always tastes better when it is homemade. You know exactly what goes into it, and you can enjoy the process of doing it yourself.
It's fun and satisfying, but we understand that it won't always be possible, especially if you have a tight schedule to work around. 
If you do get the chance to make your own honey chipotle, just know that it is incredibly easy, and great for customization.
You can use different kinds of honey to get different flavors, and you might choose to add different ingredients. 
We will go through some of our favorite recipes that you can follow to make your own honey chipotle below:
How long it takes: 5 minutes
Calories per serving: 25 kcal
Ingredients needed:
Chipotle peppers in adobo sauce (1 can)
Honey of choice (½ cup)
Soy sauce or coconut aminos (¼ cup)
(Optional) coconut sugar (2 tablespoons)
Garlic powder (1 teaspoon)
Apple cider vinegar (1 teaspoon)
How long it takes: 5 minutes
Calories per serving: 76 kcal
Ingredients needed:
Ketchup of choice (¾ cup)
Honey of choice (¼ cup)
Chipotle peppers in adobo sauce (3–4 peppers)
Apple cider vinegar (2 tablespoons)
Brown sugar (2 tablespoons)
Worcestershire sauce (1 tablespoon)
Salt (½ a teaspoon)
Garlic powder (½ a teaspoon)
Ground cumin (½ a teaspoon)
Black pepper (¼ a teaspoon)
How long it takes: 8 minutes
Calories per serving: not mentioned
Ingredients needed:
Chipotle peppers in adobo sauce (1 can)
Ketchup (¼ cup)
Honey of choice (¼ cup)
Soy sauce (1 tablespoon)
Water (1 tablespoon)
A Note On The Recipes
The recipes mentioned above are divine, but don't be afraid to alter them to make them your own! You can add different spices, and make the overall flavor more or less spicy depending on what you prefer. 
Not only that, but you may choose to use different kinds of honey for these sauces, too!
There are lots of different honey flavors that you can test out, and they will all result in a slightly different end result. 
Some recipes don't even use honey at all. You can use honey substitutes if you need to. These will all impact the flavor of the dish, but you might find something you love.
Since the spices are one of the most important elements of a sauce, you should play around with quantities, but be careful! You don't want to make a honey chipotle sauce that you can't handle. 
Final Thoughts
Honey chipotle is absolutely delicious, and worth trying out if you are looking for something a little different to the usual. This sauce has a wonderful spicy, sweet, smokey, and tangy flavor that many people love. 
While you can easily purchase some from the store, you can also make your own at home. Most recipes are incredibly straightforward, and only require a handful of ingredients to get the job done.
However, there might be some variations that ask for more or less. 
Remember that when you make your own honey chipotle sauce, you have total control over how spicy and sweet it is!
Add more or less honey if you need it, and you can add any seasonings you like to make it perfect for you. 
Honey Chipotle: What Does It Taste Like, And Does It Taste Good?
Course: Taste Like
Directions
Add the entire can of chipotle en adobo peppers, ketchup, honey, and soy sauce to a blender. I like to add the water to the chipotle en adobo can and do a quick swish with the water, then add to the blender along with the rest of the ingredients.
Blend for 30 seconds; the resulting sauce should be relatively smooth.
Add the sauce to a small saucepan and turn to medium heat. Cook for 3 minutes over a gentle simmer, stirring constantly.
Remove from heat and let cool. Makes 1 ¼ cup sauce.
Note: If the sauce seems initially too spicy for you, let it sit for 24 hours and try it again. In my experience, the heat mellows over time.