Hash browns might not be the healthiest breakfast option in the world (unless you adapt the recipe to exclude the oil and butter), but there's no denying that they're delicious.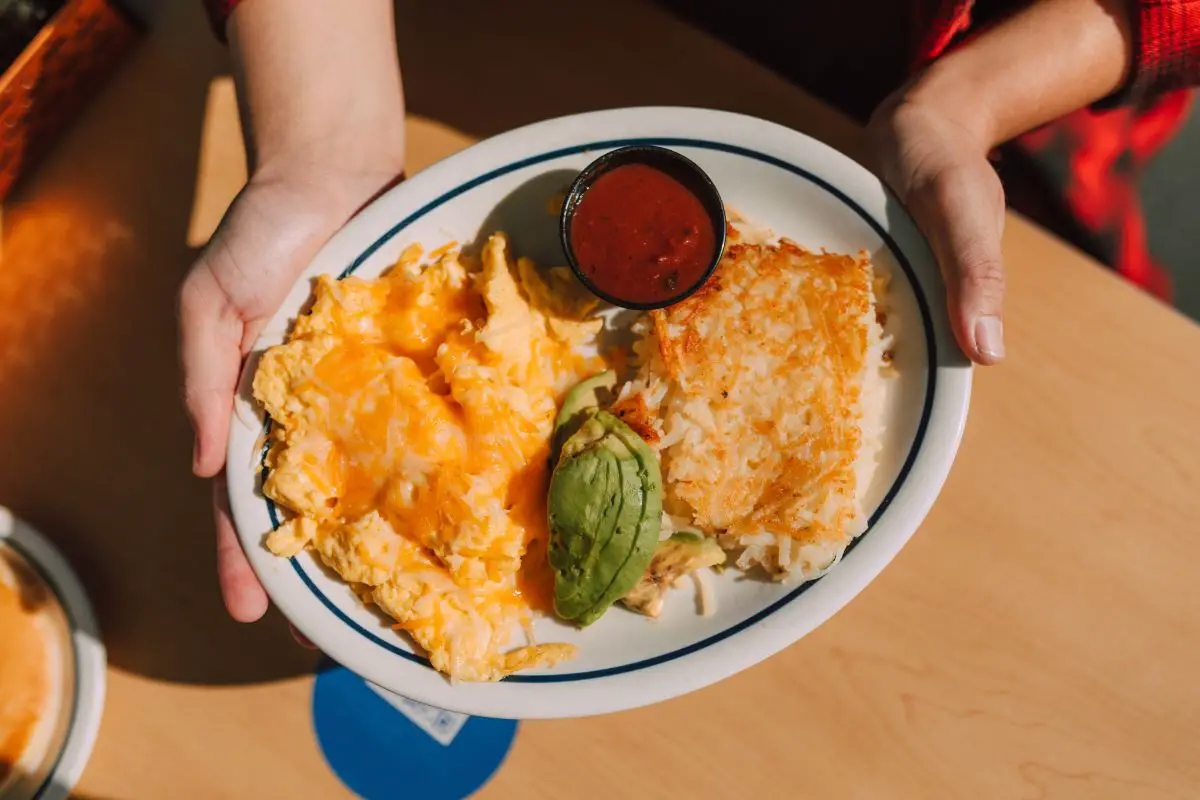 If you want to upgrade your hash browns to be even tastier, we recommend pairing them with some complementary hash browns sides!
But what should you serve with hash browns? What flavors pair well with the combination of potato and onion, and what will work with hash browns as a meal? 
These are the questions we'll be answering in this article. Hopefully, by the end, you'll have some inspiration for what hash browns sides to serve at breakfast time!
Reasons You Should Serve Sides With Hash Browns 
If you're considering eating hash browns for breakfast by themselves, think again! While potato-lovers might relish the possibility of eating nothing but hash browns to start the day, this is definitely not a balanced breakfast option. 
True, hash browns contain carbs and fat, which are two important macronutrients. However, hash browns mainly contain saturated fat, and they're lacking in protein and micronutrients, which are important for health and satiety. 
So, if you want to set yourself up for a great day, you're going to need some hash browns sides.
Plus, eating hash browns by themselves just isn't that good of a taste experience. There's not a lot going on flavor-wise, so your palate will thank you for adding some extras to your plate. 
The Best Sides To Serve With Hash Browns 
A great way to pair your hash browns with some micronutrients is to add a side of stuffed tomatoes. 
Tomato by itself can be a bit boring, but stuffed tomatoes with some added cheese is a more exciting option. Plus, we all know that cheese is one of the best hash browns sides.
While cheese does admittedly contain a lot of saturated fat, it also contains vitamins such as vitamin K, D, and A.
With the antioxidants and extra vitamins from the tomatoes, you have yourself a healthy, balanced breakfast. 
As for what you can put in the stuffed tomatoes, the possibilities are endless! We recommend some of your favorite vegetables along with spices and herbs.
If you want to be a little healthier, you can dial back on the cheese – or not! It's up to you!
Eggs and hash browns are a classic combination, and nothing beats hash browns with a side of fried eggs!
It's easy to prepare fried eggs quickly, so this is a great side option when you're in a hurry to get to work. 
Something a lot of people don't realize is that eggs contain vitamins, so you'll be adding extra micronutrients to your meal by having a fried egg on the side. Eggs are also a known source of protein. 
You could even make a fried egg sandwich with your hash browns! Just put your egg in the middle of two hash browns, and you have a quick and easy breakfast.
.
If you've never heard of a croque madame before, don't worry – it's a ham, egg and cheese toasted sandwich. It's a well-known dish in France, hence the French name. 
The combination of cheese, ham and eggs in this sandwich makes it an excellent choice if you want to load up on protein, plus you can add extra ingredients!
Many people like to put some bacon or even some sauces such as mayonnaise or mustard. Get creative with your hash browns sides!
If you love eggs but aren't a fan of the fried variety, that's no worries! You can have scrambled eggs with your hash browns as an alternative. 
Scrambled eggs contain all the same beneficial nutrients as fried eggs, but since scrambled eggs are often made with milk, they also contain a good amount of calcium, so they're good for your bones as well as your heart. 
However, if you want to keep the calorie count of your scrambled eggs down, just skip the milk altogether. You can make perfectly good scrambled eggs without it, but you may still want to add butter to achieve that fluffiness.
This may be one of the more unusual hash browns sides, but give it a chance because it's one of our favorites! 
Bacon is a fairly standard ingredient to pair with hash browns, but this combination is not the most nutritious. Even though bacon is high in protein, it's also highly processed and filled with saturated fat. 
Therefore, if you want to have bacon and hash browns together, it's best to enjoy these two foods with something richer in micronutrients: like brussels sprouts!
Brussels sprouts contain a lot of vitamin C as well as vitamin K. They're packed with antioxidants, so they'll help to combat any inflammation and oxidation in your body, too. 
You might hesitate to add cheese to this side if you're trying to be healthy, but as we mentioned earlier, cheese contains vitamins as well as calcium. It also really helps to bring the sprouts and bacon together. You don't have to add much.
Grilled vegetables might not sound like one of the most exciting hash browns sides, but it's definitely one of the healthiest. Plus, you can make your grilled veggies more fun by turning them into vegetable skewers!
First, choose your favorite vegetables. We recommend zucchini, bell peppers, onions, mushrooms, and tomatoes – but, of course, you can pick any that you prefer!
Then, either grill and serve them loose, or skewer them before grilling. Either way, you'll be loading up your plate with micronutrients (although you might also want to add a protein-heavy food source if you're looking for a balanced meal). 
On those days when you're not really that hungry or are really just craving hash browns, a great way to liven up your plate is to add a dipping sauce. In this case, we recommend chili dip as one of your go-to hash browns sides.
Despite the onion, hash browns can taste a little bland when you eat a whole plate of them by themselves. What better way to kick your taste buds into gear than to add some hot and spicy sauce?
Not only can chili sauce make your plate of hash browns much tastier, but there are also health benefits to adding more chili into your diet!
Not only is chili high in vitamin C, but it's also been found to contain antioxidants, which reduce inflammation and reduce your risk of developing certain cancers. 
Plus, studies have shown that chili can help to speed up metabolism, leading to more successful weight loss. 
You might never have thought to pair hash browns with smoked salmon, but don't knock it until you've tried it because this combination is actually amazing! 
Smoked salmon features on breakfast menus in many countries around the world, and it's a very nutritious choice to eat alongside hash browns.
It's high in omega-3 fatty acids to support both heart and brain function, and it may even improve your eye health. Plus, smoked salmon is a very good source of protein, which is lacking in hash browns. 
Frequently Asked Questions 
Are Hash Browns Bad For You? 
Hash browns are usually cooked in butter and oil, which makes them high in saturated fat. However, you can make hash browns healthier by baking them in the oven instead of deep-frying them. 
What Sauces Make The Best Hash Browns Sides? 
We've already recommended chili dip as a hash browns side, but hash browns are also delicious with ketchup, barbecue sauce, or even maple syrup! Experiment with different sauces and see what flavor combinations you prefer.
What Other Sides Pair Well With Hash Browns? 
In addition to the hash browns sides we've recommended, you might want to try corned beef, sausages (meat or vegetable) or turkey bacon alongside your hash browns.
Final Thoughts 
We hope that you now have some breakfast inspiration and know which hash browns sides you'd like to use in the future! 
Remember, breakfast is the most important meal of the day, so your hash browns sides should be as balanced as possible. This means you should prioritize sides that contain healthy fats, protein, and micronutrient-rich carbohydrates. 
Don't be afraid to experiment with different flavors and add extra ingredients. Have fun creating different combinations, and most importantly, enjoy your hash browns!
8 Delicious Sides To Serve With Hash Browns
Course: Sides
Wondering what to serve with hash browns? Here are 8 delicious and simple hash browns sides you should serve with hash browns at breakfast from now on.
Directions
Pick from the list above
Click the recipe name and visit the website
Collect the ingredients and cook the food
Enjoy – don't forget to leave a review