When you think of a salad, you're probably imagining something bland, tasteless, and boring. But all that has been changed with the wedge salad. 
The wedge salad is a revolution in the world of salads since it both looks really good, and is very tasty as well. And who could forget about all of the amazing health benefits of this salad!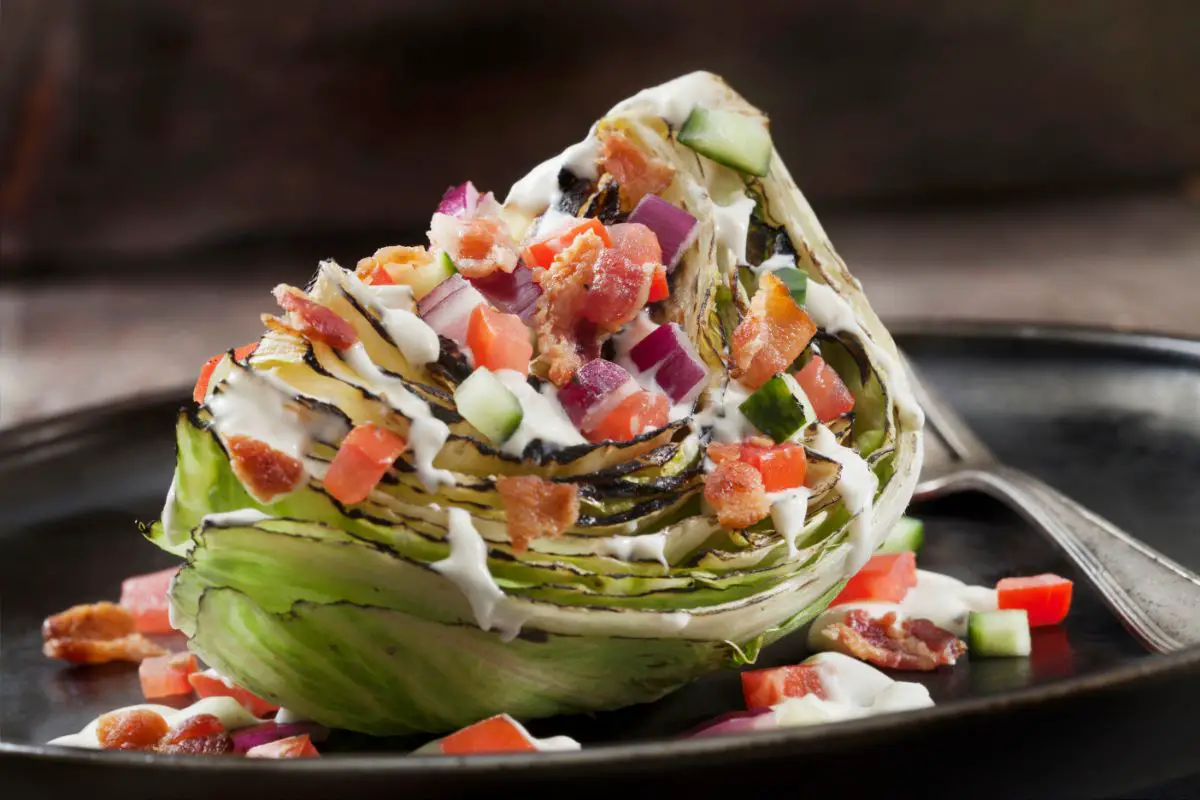 If you're looking for a way to add more healthy greens to your diet, then the wedge salad is an excellent option. But even while this is a very delicious meal on its own, you can always improve it with side dishes! 
Because it goes well with so many food groups, there are almost endless options of side dishes that pair well with a wedge salad. We've rounded up this list of the top 7 side dishes that we think go best with a healthy amount of wedge salad. 
Keep reading to find the best side dish to add to your meal!
But first… 
What Is A Wedge Salad? 
A wedge salad consists of iceberg lettuce that has been sliced into wedges and is topped with a variety of veggies, cheese, and some kind of dressing. 
Blue cheese dressing is commonly used while making a wedge salad, as this is its signature ingredient. This dressing can have a very overpowering flavor though and may clash with the side dishes you're preparing.
If that's the case, feel free to try one of the other options. Ranch or Caesar salad is the other common dressing used.  
Prepares the best part of a wedge salad is not its many health benefits (although many people love this!), it's that it's super simple and straightforward to prepare.
Simply cut some lettuce, add some veggies or other toppings, add a touch of dressing, and you're ready to go.
Tomato, bacon, blue cheese crumbles, chives, green onion, black pepper, avocado, cucumber, croutons, and crumbled blue cheese are some common toppings you can find in a wedge salad, although you can add anything you want to this dish. 
Because a wedge salad often contains a high quantity of fat and is relatively low in both carbohydrates and protein, you should try to serve this meal with a side dish that provides some of the nutrients that are missing. 
Keep in mind that the flavors of your wedge salad should be complemented by the side dish that you choose. For example, if your wedge salad is filled with cream and cheese, a dish that is light and refreshing might be a good choice for a side dish.
Alternately, something robust can be served alongside a wedge salad with a straightforward dressing.
Top 7 Side Dishes For A Wedge Salad
Would you like some wedge with your wedge? To enjoy a variety of sensations and flavors while maintaining the aesthetic of the wedge salad, try serving potato wedges alongside it.
Potatoes in all forms make for very good side dishes, as this carb-heavy food goes perfectly with almost anything.
Potatoes improve the flavor of practically every food they are added to, and they are also beneficial to your health, so it makes sense to add them to this meal.
These potato wedges have a crisp exterior while keeping the interior soft and fluffy, just as potato wedges should be. 
The best part about using potato wedges as a side dish is that you can use whatever dressing you like, and the flavors will almost always complement each other!
Roasting chicken in garlic butter is one of the best ways to get the most flavor out of this meat. It's also very simple to prepare, yet is incredibly flavorful and fragrant. When you're low on time, this is also a very quick and easy meal to make. 
A mouth-watering dressing for the roast chicken can be made with garlic, butter, rosemary, lemon, and parsley, along with some white wine. The meat, which is both crunchy and soft, can be savored alongside the crisp wedge salad.
Because garlic is so high in beneficial nutrients, finding new and interesting ways to include it in your meals is a great way to boost your overall health. 
When making a French Onion soup from scratch, you have to check the recipe carefully to what stock you should use. Because it controls the flavor and texture of the finished soup, the stock is a vital ingredient.
The majority of onion soups call for beef stock, but this may change from recipe to recipe. 
Also, make sure that the onions are caramelized well so that they have a lovely depth of color by the time you are finished.
Last but not least, when deciding which cheese to add to your soup, parmesan or gruyere should be your first choice. As cheese is another of the vital ingredients in this soup, you'll be adding a lot of it to the dish.
Because of this, you shouldn't put too much cheese on the salad. Instead, simplify the salad.
One idea to shake things up and add some excitement to your supper is to serve steak as an accompaniment to another dish.
There are a number of surprising ways in which mushrooms can improve your health, so they are an excellent ingredient to include in risotto.
People love steak and mushroom risotto because it's a protein dish that contains a good amount of carbohydrates in addition to a lot of protein.
The fact that the dish already has a combination of rice, vegetables, and meat makes it the perfect complement to virtually any kind of salad.
Because it's cheesy and creamy and causes you to feel full very quickly, you might want to cook it in a smaller quantity than you would a normal meal. 
You can bake this meal in the oven or fry it in a skillet, but either way, the flavor will blow your mind.
In less than twenty minutes, the pork chops will be ready to serve alongside your wedge salad. 
You don't have to worry about the pork chops' nutritional value because they are a lean cut of meat and, as a result, they won't put a strain on your calorie consumption. Pork chops also contain a high quantity of essential minerals and proteins.
Salmon is one of the numerous superfoods that are vital for our overall health because it is rich in omega-3 fatty acids.
It's possible to prepare a delectable meal in less than twenty minutes by baking salmon with a straightforward dressing consisting of lemon, olive oil, garlic, herbs, and other seasonings.
Serving it with wedge salad is the perfect way to bring all the flavors together. 
When combined with the salmon's flaky texture, the crunchiness and creaminess of the salad create a harmonious union in your mouth. It's impossible to resist, and you really ought to give it a shot.
Any dish that features bold flavors would be enhanced by using meatloaf as a side dish. 
Because this is a very uncomplicated dish but is packed with an intricate variety of flavors, it is the ideal dish to serve with anything that has a robust flavor profile.
When you make dinner, you can experiment with the many kinds of glazes that can be used on meatloaf.
Wedge salads, on the other hand, because they are creamy and have a terrific burst of texture, do not always require a specific sauce or glaze.
Summary 
After looking at all of these delicious side dishes, you probably don't know which one to try first! Each of these dishes complements a wedge salad in different ways, so experiment and see which ones you like best. 
A wedge salad, when accompanied by any of the above side dishes, is sure to make for a full and nutritious meal for you and your family. 
We highly recommend that you experiment with a variety of sauces and dressings to go with the dishes so you can experience even more flavor. 
Top 7 Side Dishes To Serve With A Wedge Salad
Course: Sides
A wedge salad is a great addition to any meal, but it can be a little boring on its own. Here are some of our favorite side dishes to serve with it.
Directions
Pick a recipe from the list above
Click the recipe name and visit the website
Collect the ingredients and cook the food
Enjoy – don't forget to leave a review