If you like Japanese food then you've probably heard of Tamari sauce before. 
You'll also know that it is one of those ingredients that is seemingly everywhere yet nowhere at the same time. 
That's why it is good to know other foods that can work just as well in their place – for those days when you can't find them.  
With this in mind, this guide will explore the best alternatives to tamari sauce when you can't find it anywhere else.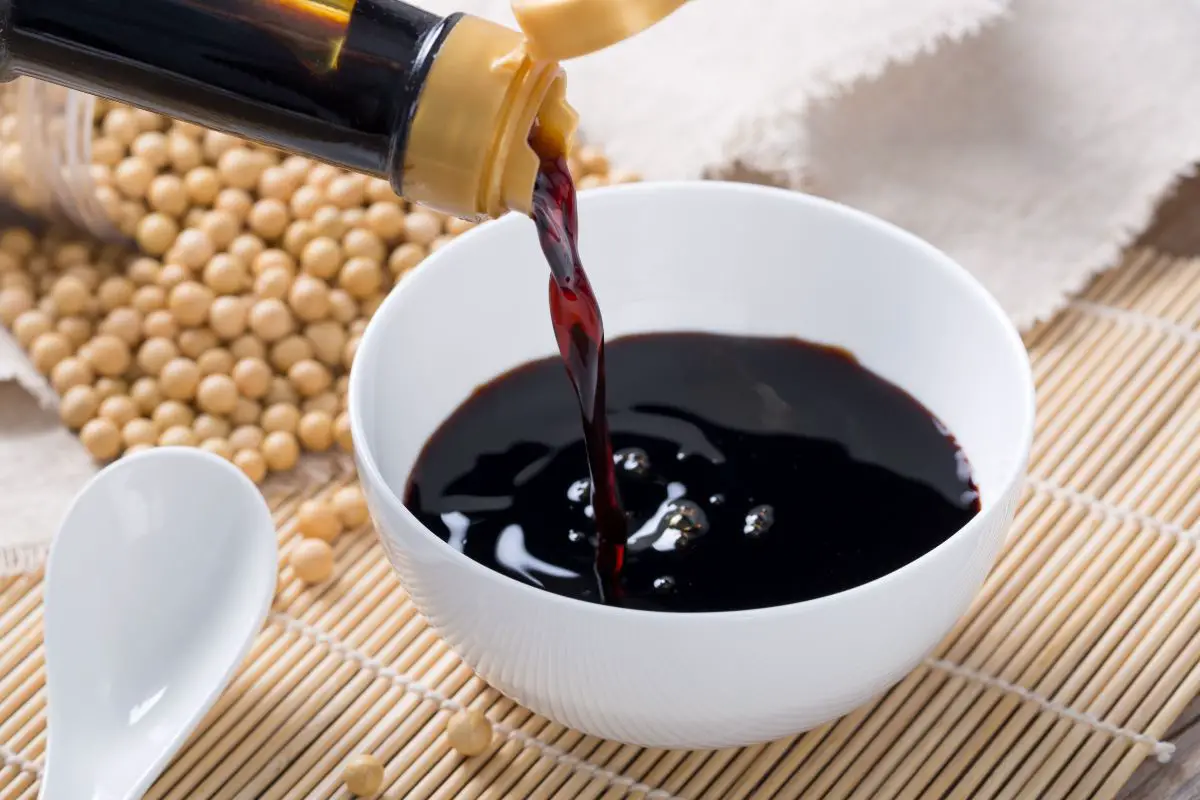 What Is Tamari Sauce?
Tamari sauce could be considered the equivalent of soy sauce. Similar to soy sauce, it comes from the process of fermenting soybeans. 
However, unlike soy sauce, it doesn't contain any wheat. 
Thus, it is darker in color, has a certain umami quality, and is less salty than soy sauce. 
Typically, you'll find this sauce a part of various rice and sushi dishes. That said, you can also add it to broths, meats, and ramen recipes. 
Below, we have outlined some tips when it comes to cooking with tamari sauce. These include: 
For your spring rolls and dumplings, use tamari sauce as a dip. 
Use tamari sauce to marinate your chicken, pork, or beef. Before cooking your meat, you'll want to allow this to sit for at least 30 minutes.
For some extra flavor, add a splash of tamari sauce to your noodle or soup dishes. 
Coat your stir-fried vegetables or meat in a tamari sauce glaze. For this glaze, simply combine equal parts honey (or brown sugar) with tamari sauce. 
The Best Tamari Substitutes 
As opposed to Chinese soy sauce, tamari is darker and contains a richer taste. Plus, it has a deep umami flavor that makes it the ideal addition to many dishes.
Also known as tamari shoyu, the sauce is made without using wheat or any other grains – which are typically found in soy sauces in Asian recipes. 
Instead, tamari sauce only contains salt, water, and juice from miso paste from the fermentation process. Therefore, if you're looking for a gluten-free soy-based sauce, then this is ideal for you. 
Since it contains a more balanced flavor, tamari is ideal as a dipping sauce and it won't overwhelm any of the other flavors with additional saltiness. 
In fact, when it comes to sushi, many people prefer to use tamari as opposed to Chinese soy sauce, due to its subtleness.
Likewise, you can also mix it with other ingredients, such as species and sugar to create a popular seasoning. This can then be used to marinate a range of poultry and meat. 
Likewise, it can even be used to add hints of meatiness to your vegan or vegetarian meals. 
That said, when tamari is difficult to find in the supermarket, there is a range of different alternatives you can consider. 
Each alternative will add unique flavors to your food, therefore, it's important to find the right one for you. These include:
It comes as no surprise that the most popular alternative to tamari is soy sauce. Both sauces are extremely similar – with similar tastes and textures. Plus, they can both be incorporated into a range of recipes. 
Here, you're offered a balance of sweetness, saltiness, slight acidity, and bitterness. 
With soy sauce, you can marinate chicken, meat, and fish, and even use it as a dip for your sushi – which is what is most commonly used for. 
Moreover, you can also incorporate it into stir-fries and stews, and even combine it with spices, sugar, and ketchup for a BBQ mix. 
If soy sauce is too salty for your taste, then consider opting for dark soy sauce since it is more similar to tamari and contains the same umami taste. 
While this alternative may sound strange, it is ideal if you're looking for something with stronger flavors and is more pungent. 
Traditionally, fish sauce has been used in a range of Asian cooking whereby it can be added to broths, fish dishes, sauces, noodles, and much more. 
Plus, don't let the smell deceive you, the sauce itself has a caramel-like taste and is surprisingly sweet. 
Unlike tamari, it doesn't contain any of that pungency, therefore, all you have to do is add a little bit of lime and ½ teaspoon of garlic to create something similar. 
Since the fish sauce is extremely subtle, you might find that you need to add more as you cook. 
Coconut aminos is a sauce created by combining sea salt and coconut sap. It tastes similar to soy sauce, however, it is less salty and sweeter. 
Since it doesn't contain any soy and is gluten-free, it is an ideal choice for anyone with sensitivities or allergies. 
Likewise, it is also a good option for anyone trying to avoid tamari or soy sauce – since it can be used in all the same recipes without compromising any flavors. 
As such, it can be added to marinades, stir-fries, soups, and salad dressings. Moreover, it is an ideal dipping sauce for dumplings and spring rolls. 
To ensure you're getting the best flavor possible, opt for coconut aminos that are made using only the best ingredients. 
For instance, something that uses unrefined sea salt and organic coconuts. 
Another popular alternative to tamari sauce is hoisin sauce since both contain fermented soybeans. The result is a thick reddish-brown sauce that tastes similar to American-style BBQ sauce – although, it is much saltier and richer. 
There are various versions of hoisin sauce available, some include ingredients like starch from rice and sweet potatoes. Moreover, there are others containing spices and other flavor-enhancing ingredients like red chili peppers and garlic. 
Unlike tamari, hoisin sauce contains a more pungent taste. It has a slightly sweet and rich, salty flavor that adds tons of umami taste to your meals.
Thanks to its thick consistency, it is generally used as a meat seasoning or a condiment for various meats, shellfish, and poultry dishes. 
While this substitute may seem like a surprise to some, it is actually a great tamari sauce alternative thanks to its umami flavors that bring out the best in meals. 
Worcestershire sauce is made using a combination of ingredients, including sugar, tamarind, molasses, onion, anchovies, vinegar, and many more. 
When using Worcestershire sauce, it's best to start with a small amount, since it can be too pungent and bitter for some. 
If you're looking to create some soy-free meals, then Worcestershire sauce is a great option. Plus, it is good when you're trying to work with the options you already have at home. 
You can add it to a range of recipes, including noodles, cooking sauces, meat dishes, and fried rice. 
If you're looking for the best substitute for tamari, then you can't go wrong with Braggs liquid aminos. 
Tamaria is similar to soy sauce – made with little or no wheat at all. Most soy sauces from the supermarket contain gluten, however, you don't have to worry about this with Brigg's as it's gluten-free. 
Therefore, it is ideal for anyone with gluten sensitivity or anyone with celiac. In addition, it is also lower in sodium and contains no added sugar. 
While it may be slightly more expensive than tamari, is it worth it if you're looking for a healthier option. 
When subtitling this in place of tamari, just make sure you're using the required amount in the recipe. 
Plus, you could even consider using a splash of water to thin out the sauce – for the perfect alternative. 
If you're looking for a healthier alternative to soy sauce, then give Bragg's a try in your next recipe. 
Despite its name, oyster sauce tastes nothing like oysters. Instead, it has a rich, syrup-like consistency similar to tamari sauce – featuring a slightly sweet, salty, and earthy taste. 
The sauce is made by caramelizing oyster juices with sugar and salt. Thanks to its thick consistency, it can either be drizzled over vegetables and salads or used as a dipping sauce. 
It is a great addition to your stir-fried and can even be used as a glaze or a marinade. 
Moreover, the oyster sauce can even be used with meat, pork, or chicken – bringing out all the different flavors in a dish. Plus, it works perfectly as a noodle flavoring, too. 
Final Thoughts
Tamari sauce is a great addition to all your Asian-inspired dishes. However, it can sometimes be difficult to come across. 
However, with the help of this guide, you're sure to find a range of alternatives to tamari sauce that taste just as good in your meal. 
These range from the oyster sauce and hoisin sauce to Worcestershire sauce – hopefully, this guide has informed you of the best substitutes for tamari sauce. 
7 Delicious Alternatives For Tamari Sauce
Course: Substitutes
Tamari sauce is a popular ingredient in many recipes, but if you don't have it on hand, don't worry. This article will list the seven best substitutes for tamari sauce that you can use.
Directions
Decide on what substitute you need
Pick a substitute from the list above
Read what you need to substitute with
Create the recipe and enjoy