Tabbouleh is a type of Lebanese salad that is enjoyed in many Middle Eastern countries and the Eastern Mediterranean.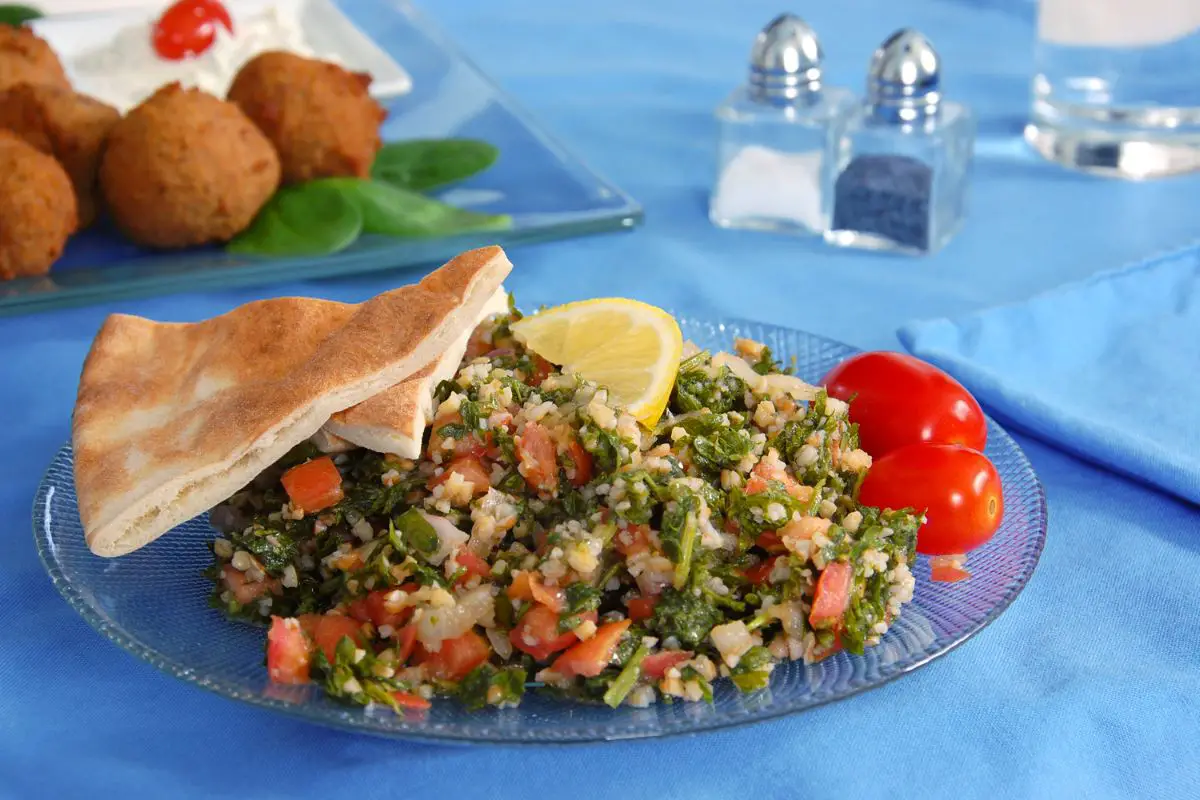 It is made with tomatoes, onion, bulgar wheat, fresh parsley, fresh mint, fresh lemon juice, with some salt and pepper. Some recipes add lettuce, and others swap out the bulgar wheat for lentils or semolina. 
Tabbouleh is a delicious salad, but if you haven't had it before it can be difficult to find the right side dish to pair it with.
We have put together this list of Middle Eastern and Mediterranean inspired side dishes that are perfect for serving with tabbouleh. Keep reading to find out more and get some inspiration for your next dinner party. 
This jeweled couscous is flavorsome but also visually appetizing. It is perfect when served in a bowl on the table alongside tabbouleh.
It only takes 15 minutes to make so you can whip it up quickly if you have unexpected guests to feed. The pomegranate seeds and the pistachios add exciting pops of color as well as tart and nutty flavors.
The dish is also flavored with fresh lemon juice along with mint and parsley. It is seasoned with salt and pepper. 
This dish is very simple to make. Simply soak the couscous in hot water for ten minutes, then add the rest of the ingredients and stir them all together.
You can enjoy it warm or cold, and it will keep in the refrigerator in a sealed container for several days. 
This particular recipe has a Greek origin, but stuffed eggplants are enjoyed in many Mediterranean and Middle Eastern countries.
You can serve this as a delicious dish on its own, or alongside other side dishes like tabbouleh and couscous to create a Mezze style meal. 
It takes around 50 minutes in total to cook this dish, as you first need to bake the eggplant for half an hour. You then scoop out the eggplant flesh and chop it up before mixing it with the rest of the stuffing ingredients.
You can stuff the eggplant with whatever you fancy, but this recipe uses red onion, red pepper, zucchini, sultana, pumpkin seeds, garlic and tomatoes, and rice.
These ingredients are seasoned with salt and pepper, coriander and chili. 
The stuffing is put back into the eggplant skins and baked. Before serving, they are topped with crumbled feta, a sprinkle of coriander, and lemon wedges. 
Tabbouleh is often eaten as a side salad. Fattoush is a different type of salad that is equally refreshing, and they go very well together.
The main ingredients of fattoush are lettuce, cucumbers, tomatoes, radishes, green peppers, onions, and fried pita bread. The seasoning is simple – fresh parsley – but it helps to lift the dish and adds an aromatic flavor. 
You can customize this recipe and add your favorite salad ingredients, or some additional seasoning. You can also experiment with different varieties of lettuce and tomato, or different types of fried bread.
This makes an excellent side dish to serve alongside meat dishes or can be enjoyed on its own as a light lunch. 
Baba Ganoush is a creamy dip made with eggplant. It is enjoyed in Middle Eastern and Mediterranean countries and has a distinctive smoky flavor.
This is achieved by grilling the eggplant over an open flame. To intensify the flavor, let the dip sit in the refrigerator for around 30 minutes before serving.
This allows the flavors to mingle and also thickens the dip to create the perfect texture. 
As well as flame grilled eggplant, this recipe also has tahini paste for a savory flavor, zesty fresh lemon juice, punchy minced garlic and creamy greek yogurt.
It is seasoned with sumac, a Middle Eastern ground spice made from dried berries. It also contains red pepper flakes which add some heat.
Olive oil binds the ingredients together, and the dip is garnished with toasted pine nuts. 
Baba Ganoush is great served with pita bread and tabbouleh for a light and fragrant meal. 
This Israeli salad is traditionally enjoyed alongside many different meals including breakfast.
The ingredients are simple but come together to create a delightful combination of flavors that leave your palate cleansed and refreshed.
All you need is cucumbers, tomatoes, scallions, fresh parsley, fresh mint, fresh oregano, lemon juice, extra virgin oil, black and pepper, and feta cheese. 
It is best to de-seed the cucumber before you add it to the salad, so you don't introduce too much moisture that will wilt the herbs.
De-seeding cucumbers is very simple. Cut the cucumber lengthwise into halves or quarters. Use a spoon to scoop out the seeds by pressing it down the center of the long piece of the cucumber. 
The trick to this salad is to use fresh, seasonal ingredients. This will ensure that you have the most flavor and the best textures in your salad. The feta is creamy and salty and balances with the crisp salad ingredients. 
Stuffed vine leaves might look strange if you have never tried them before, but they are delicious and so tender.
Serving dolmades alongside tabbouleh creates a perfectly balanced meal that your friends and family will love. Dolmades can also be enjoyed as an appetizer or as part of a mezze board. 
It takes 1 hour and 20 minutes to make them from scratch, as you need to prepare the vine leaves. Fresh vine leaves need to be boiled and the stalks removed.
If you can find a jar of vine leaves then you can rinse them and the process will be quicker. 
The filling for the vine leaves is made with rice and finely chopped onions. The rice is seasoned with fresh herbs – dill and parsley – fresh lemon juice, and salt and pepper.
This is a very simple filling. Other recipes will add vegetables and some even use ground meat. Once you get the hang of how to make dolmades you can experiment with your own fillings. 
Manaqish (also spelled Manakish) is a type of bread that is popular in Levant, an Eastern Mediterranean region.
This particular recipe flavors the bread with za'atar, a spice mixture made up of sumac, sesame seeds, and za'atar spices.
This bread is usually served warm and can be enjoyed alongside lots of different meals. It would work really well with tabbouleh, as the flavors are different but complementary. 
Once you have learned how to make Manakeesh, you can experiment with different toppings. Try topping it with different blends of spices, or with thinly sliced vegetables like eggplant, zucchini or tomatoes.
You can also top it with crumbled feta. Manaqish is about 5 inches in diameter – ideal for an individual appetizer or side bread. 
If you make your own authentic falafel it is a great way to add protein and fiber to your tabbouleh, creating a balanced meal.
The two dishes work perfectly together. The earthy falafel contrasts with the crisp and refreshing salad with aromatic flavors. 
Falafel are balls or patties made out of chickpeas, fresh herbs and spices. They have quite a dry texture, and are often eaten with hummus or a yogurt based dip.
They would be excellent with baba ganoush. The spices are an important part of the recipe as they add all of the flavor.
This is why you should try to get hold of good quality spices. You will need cumin, coriander and cayenne pepper. You will also need fresh herbs – parsley, cilantro and dill. 
If you have some falafel left over, why not chop it up and put it in a wrap with some salad and hummus? This is a healthy lunch that makes a nice change to a sandwich. 
Summary 
We have put together a collection of delicious side dishes that would be ideal to serve with tabbouleh. You can also enjoy tabbouleh on its own as an appetizer, lunch or a light dinner.
You could also make all of these recipes at once and serve up a Mezze board of Mediterranean and Middle Eastern dishes. This would be ideal for a dinner party or a garden party with your family and friends. 
What Side Dishes To Serve With Tabbouleh? 8 Of The Best Recipes
Course: Sides
A guide to the best side dishes you can serve alongside tabbouleh with recipes so you can make them at home.
Directions
Pick from the list above
Click the recipe name and visit the website
Collect the ingredients and cook the food
Enjoy – don't forget to leave a review