If you are having lettuce wraps with more veggies, or as a way to make meat more refreshing, you know that they are a delicious snack and a way to make eating healthy a lot more fun.
One of our favorite things about lettuce wraps is that there are not really any rules when it comes to how you prepare them, you can put whatever you like in them, and because the mild taste of lettuce complements most things, it will probably end up being a yummy treat!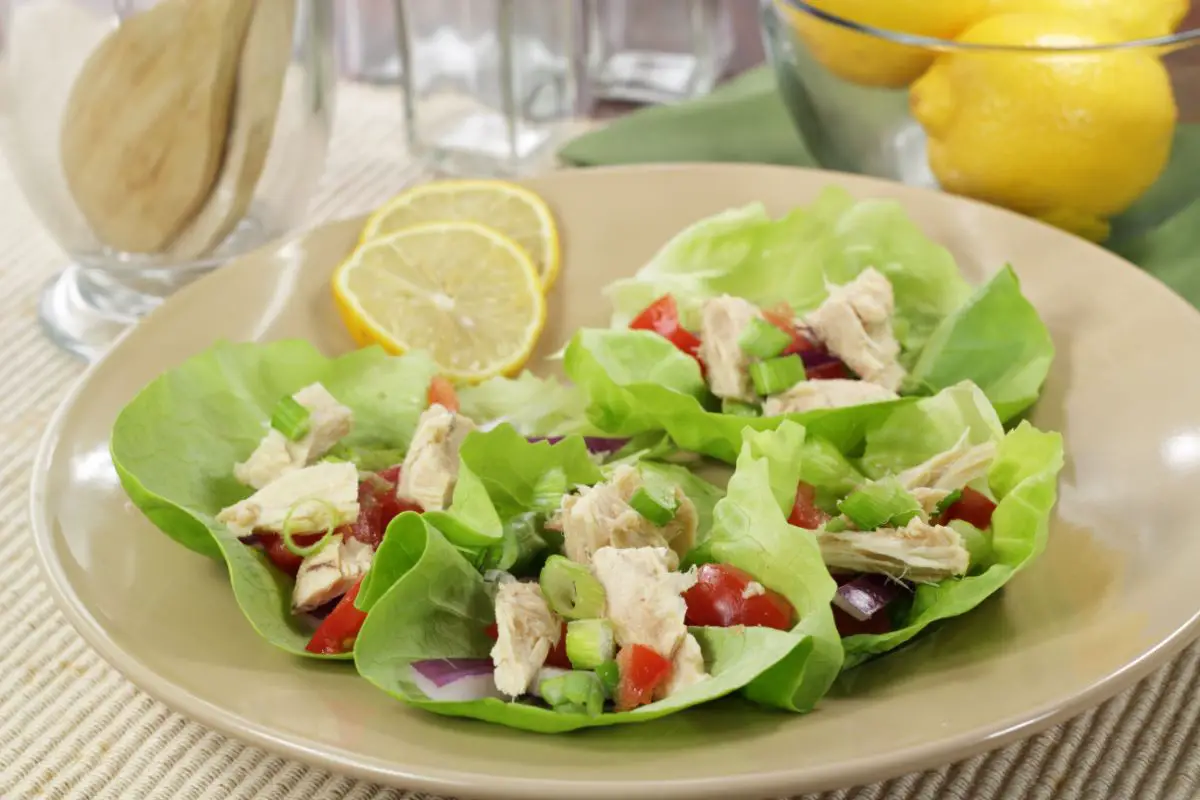 You can have lettuce wraps as a main course for your meal, or you can just have a couple as a quick snack to satiate your hunger for a little bit.
They also travel quite well, so they make a great snack to take on a picnic or in a lunch box if you want to save some money on food when you are going out.
However, like most delicious things, if you eat just a few too many, you will probably start to get pretty tired of them, and want something a bit different, this is why we always recommend serving or eating lettuce wraps with a side.
This could be a side with a complementary flavor, or that is complementary nutritionally, or even both! 
So, if you are a fan of lettuce wraps, but you are tired of just having them by themselves and boring, or if you want to serve lettuce wraps at a dinner party or a gathering, and you want to know what will taste good when served with them, we have a few amazing suggestions here of food we know will go great when you serve it with lettuce wraps.
This is also a great way to make lettuce wraps more palatable to people who tend not to normally like lettuce wraps.
So, if you are tired of just having boring lettuce wraps by themselves, then keep reading for 11 of our favorite additions you can serve alongside them!
Why You Should Serve Sides With Lettuce Wraps
There are plenty of reasons why we love serving lettuce wraps with sides, but one of our favorite ones is how the flavors will stop the lettuce wraps from being overpowering.
If everything you are eating is covered in lettuce, while it can still be delicious, you will start to get tired of the lettuce flavor.
This is why having a side that does not include lettuce can help break up your meal and will serve as a palate cleanser so you can not get bored with what you are eating.
This also helps what you are eating be less repetitive, and more nutritionally balanced. 
Lettuce wraps are often seen as snacks, but if you can add side dishes they can become a much more substantial meal and can widen the possibilities of what you are doing with these lettuce wraps.
This also means that you can always serve them with something that you know will complement them, and will give guests a greater variety of foods and snacks to pick from.
Serving lettuce wraps with a side will also just make them a lot more filling, this means that you do not have to worry about people going hungry when you are hosting.
If you also eat too much of the same thing, its nutritional value can actually start to be canceled out, and eating the same thing over and over just means you are having less fun eating.
So, if you are now convinced that eating lettuce wraps with a side is the right choice, let's have a look at some of our favorite sides to serve with them!
Our Favorite Sides To Serve With Lettuce Wraps
There are plenty of different suggestions here that cover a wide variety of different dietary restrictions and different tastes and cuisines.
This means that you should be able to find something that you like and will want to eat! So, if you have been struggling to find something to everyone's taste to serve alongside lettuce wraps, you should be able to find a few great ideas here!
We are starting off with something you may have not immediately assumed would go well with lettuce wraps, but wonton soup is a great idea for having with lettuce wraps as the flavors do not match or overwhelm each other, but are instead complementary.
They are also both filling dishes, so having them together means you can create a meal that will be perfectly satisfying.
Also, like lettuce wraps, wontons can have a flavor that can be customized, and this means you can customize the flavor to fully complement and contrast what you are doing with the lettuce wraps.
It is worth keeping in mind that while making a wonton soup is not too difficult, especially if you have made it before, it can be quite time consuming, so make sure that you plan the dish in advance if this is what you want to make with your lettuce wraps.
However, the time invested will be well worth it, and this is something we have to recommend you try making!
Going a different route from the previous soup option, having a lettuce wrap with something more substantial like a fried rice is a great idea since they balance each other out nutritionally.
And by making a cauliflower fried rice, you can be sure that your fried rice is both nutritious and delicious just like your lettuce wraps.
We recommend making this dish with cauliflower rice since it is better for people with dietary restrictions, and once it is fried, it tastes just as delicious as a standard fried rice.
Making the dish as accessible as possible is even more important if you are hosting an event as you do not want guests that have dietary restrictions to feel excluded or like there are dishes that they cannot eat.
Once you know how to make a yummy cauliflower fried rice, this is a side you will want to serve at every event.
This is another different angle you can take when it comes to what you want to serve with lettuce wraps, but the flavors of a tempura, especially the salty fishy flavors of a shrimp tempura, are perfectly balanced when eaten alongside lettuce wraps.
If you are a fan of seafood, and you have not tried shrimp tempura, then you are definitely missing out.
This is one of our favorite ways to cook shrimp as it really heightens the flavor, however, you will notice that if you eat quite a bit, the flavor can be quite overwhelming.
This is why we love serving our shrimp tempura with something as refreshing and substantial as lettuce wraps.
This means that you do not have to cook as many as each, and you can stuff the tempura into your lettuce wraps if you want a fun different option on how to eat them!
We love eating lettuce wraps with something pickled as the strong flavor complements the slightly milder flavor of the lettuce.
Making something like a pickled carrot and radish combination is perfect since you can serve it alongside your lettuce wraps with something else listed here, or you can instead add it as an extra filling to your lettuce wrap to make it even more delicious.
Pickled veggies like these also have a lot of extra nutritional value, so by adding them to your lettuce wraps, you can make them even healthier, but also lend them a much more complex flavor.
If you are a fan of cucumber salad, but you are tired of how plain it can taste, then we really recommend trying a Thai cucumber salad.
These salads have a great mix of textures, as well as covering both a sweet, salty, and sour flavor palate to make it an amazing dish to serve with anything.
Similar to a lot of the dishes that we have mentioned here, this is a side which you can serve alongside the lettuce wraps, or you can use it as an optional filling for your lettuce wraps as well which makes it a great versatile option.
If you want to make this salad even better, there are some options on how you can do it, however, our favorite is to add some jalapeños to make it a bit spicier.
If you are looking for something to serve with lettuce wraps that is refreshing, or if you just want a new type of salad that is simple to prepare, a Thai cucumber salad is the way to go.
If you are looking for something that has an intense flavor that will complement your lettuce wraps well, then we have to recommend serving them alongside some sautéed mushrooms.
By sautéing mushrooms you are adding to their natural flavor and enhancing it.
However, for a lot of people this flavor can be quite overpowering and a bit too much, this is why we recommend serving it with some lettuce wraps since this helps in mellowing out the flavor and making it palatable for a lot more people.
This is also a great option if you are a fan of mushrooms too! This is another dish that can also be used as a filling for lettuce wraps, especially if you are looking for an efficient way to use leftovers!
This roasted broccoli salad is great alongside, or inside lettuce wraps!
This is a simple veggie to stir fry, and if you add it to lettuce wraps it is even better!
One of the best ways to mellow out the flavors of an intense garlic chili stir fry is to serve it with lettuce wraps.
This is another stir fry that goes great with lettuce wraps!
Pico de gallo is one of our favorite refreshing fillings to add to a lettuce wrap!
Takeaway
Hopefully this list has given you some great ideas for what you should be serving alongside lettuce wraps, and has also displayed just how much variety you can have when it comes to what will go well with lettuce wraps.
There are plenty of different suggestions on this list, so hopefully you have found a good one, but if you are unsure which will be best for you to make, look at which matches your skill level, and which will require you to buy the least ingredients!
The 11 Best Sides To Serve With Lettuce Wraps
Course: Sides
Directions
Pick from the list above
Click the recipe name and visit the website
Collect the ingredients and cook the food
Enjoy – don't forget to leave a review