So, you're looking for a way to add a little extra healthiness to your chicken. Whether it is breast, legs, thigh, or even a whole chicken, sometimes you want some extra ingredients to go with that perfect piece of poultry.
Fortunately, spinach is a very popular vegetable that fits the bill very nicely, especially when it is diced and stuffed into your chicken meat!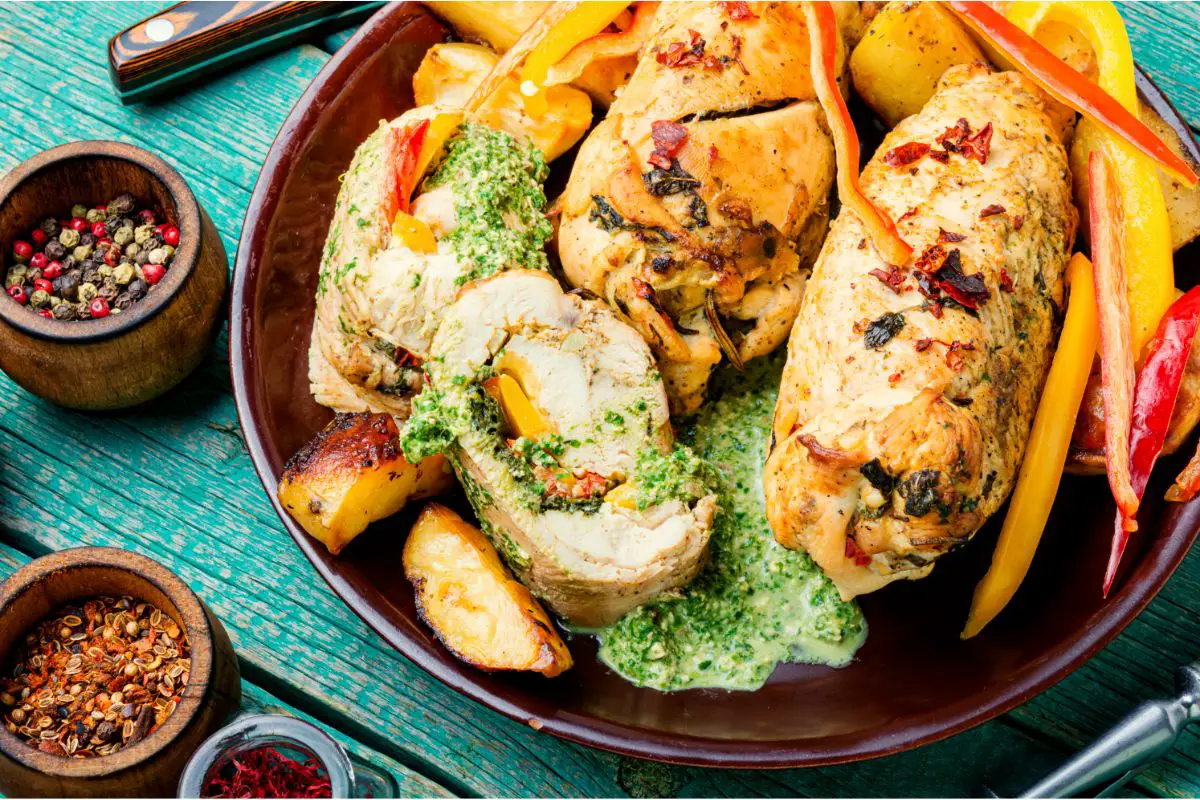 However, as tasty as this flavor combination is, it is not a complete meal all by itself. It still needs one or two items to bring the whole meal together.
Fortunately, we have just such a list for you here!
If you're in desperate need of a side dish to go with that chicken that you've prepared, and you don't know what in your pantry you can use, these 6 sides will be just what the doctor (or chef) ordered!
Spinach Stuffed Chicken Flavor Profile
Before we dive any deeper into the sides you can make with this dish, we first want to explain the general flavors profile of this recipe for you. You need to know what a good one of these dishes looks like, after all!
Well, generally speaking, the most common way that this recipe is a large/ long piece of chicken meat (usually sliced open breast) is laid out, and filled with plenty of spinach, before the chicken meat is then rolled back up and baked.
This generally lends to a flavor that combines both the meaty texture and succulence of chicken, while carrying plenty of leafy greens as well.
This leaves a recipe with not only a surprising amount of complexity in the flavor department, but also a dish with plenty of vital nutrients, from lots of protein to vitamins.
Not only that, but there are a few ways of filling the dish too. For example, a combination of diced spinach and cream cheese is a very popular filling that also adds some delicious cheesy goodness to the mix.
Why Do You Need A Side?
So, if this recipe is already so good on its own, why exactly would you want to add a side dish to this recipe in the first place?
Well, generally speaking, while spinach and chicken are a great pair of foods for filling in general, they don't have quite enough carbs and energy to carry a whole meal (yes, even carbs are necessary for a healthy diet or healthy living, even if it is only in small amounts).
Plus, chicken and spinach aren't always the moistest recipe on their own. Depending on your filling, it can dry out quite easily once it has been roasted or fried.
So, we're looking for recipes that can complement this solid food pairing, whilst also providing a little extra filling and vitamins in their own right.
Luckily for you, we have just the right sides for this job!
1. Potato & Bacon Salad
If you're looking for classic side dishes, then they don't get much more classic than this!
Potatoes, especially the new potatoes that these types of salad are usually made with, add a nice, chunky texture to a good grilled or roasted chicken breast with spinach stuffed inside.
The bacon that this site is best prepared with is just the icing on the cake, so to speak. It's the perfect blend of savory flavors for your palette, as well as a little extra protein and carbs for your meal plan.
If you're looking for a good example of this potato and bacon salad, you may want to check out this version of this classic side here.
While this particular recipe does opt to use vinegar for its dressing, feel free to use mayonnaise in your version of the recipe.
The creamy texture that it gives the food provides a nice, smooth texture for both the bacon and the potato.
2. Roasted Garlic & Kale Caesar Salad
Moving from one vegetable-based side dish to another, we have a phenomenal salad dish that you'll be itching to try out for yourself.
This particular recipe is packed to the top with tons of healthy greens and herbs, from freshly roasted garlic to freshly picked, sliced, and diced kale.
And, of course, no good salad would be complete without some delicious bacon scraps added in for good measure.
(okay, maybe some salad recipes are great without bacon. But we're struggling to think of them right now…)
If you're feeling extra decadent, we would recommend throwing in a little Crème Fraiche with this recipe, for an extra smooth sensation (though you may want to avoid this if you're not looking to overdose on the cheesy flavors)!
Alternatively, you can't go wrong with a good caesar dressing!
If you're looking to try out this particularly healthy side dish, then you'll want to head over to this recipe page here.
3. Pasta Salad
Just as popular as a good veggie-only salad recipe for your spinach and chicken is a good pasta salad recipe, which is an easy recommendation from us in terms of sides.
Like with the previous salad that we've covered, the trick with this side dish is to make sure that you've got the right dressings to complete the dish.
After all, no amount of amazing ingredients can help a salad that doesn't sit right in your mouth!
If you're looking for specific recipe recommendations, this particular pasta salad is a great side dish to try out.
Not only is it a nutritious and tasty pasta salad, but it is also keto-compliant, meaning that you'll also always have a low-carb pasta salad recipe handy!
A pasta salad that is low in carbs? It's more likely than you think!
4. Cheese-Filled Bread
This next dish is a simple one to try out, but one that pays off massively if you have the right ingredients.
For the best results, you'll want to use a thin type of bread as your cheese vessel, and at least three different cheeses for your filling.
Plus, depending on how big the bread you're using is, you can even wrap your chicken and spinach main in this cheesy bread, making for one easy-to-hold and transport dish!
Technically speaking, the type of bread that you use for your cheesy bread shouldn't matter too much.
However, if you're looking for recommendations, this particular cheesy flatbread recipe is the perfect combination of delicious food, and easy to handle, both in preparation and for eating.
You can eat it with your spinach-stuffed chicken, or pack it on its own as a bite-sized snack!
5. Coleslaw
If you're looking to keep your side dishes for your spinach and chicken main healthy and crunchy, then you can't go wrong with a good coleslaw recipe!
This is a dish that provides a nice contrast against your chicken and spinach filling.
Not just in flavor, but in texture too.
The crunchy cabbage and grated carrot that goes into a good coleslaw is a fantastic way to use two vegetables that might otherwise get forgotten in a recipe that isn't a standard roast dinner.
The coleslaw recipe that we have linked here is one of our favorites, containing all the healthy ingredient's that you're looking for in a good 'slaw.
And with 4 net grams of carbs to boot, it's a pretty good keto coleslaw too!
6. Garlic Bread
Of course, if we're discussing side dishes that you should have in your culinary tool belt, then there might not be a more versatile recipe than a good garlic bread dish!
The combination of fresh bread and garlic butter pairs with many dishes, from pizzas to casseroles, too, of course, a good chicken and spinach dish.
If you're using a cream cheese base for your spinach filling, garlic bread makes for a great pairing, especially wt a mouthful of garlic and cheesy flavorings.
While garlic powder can make a great garlic base for this dish, we highly recommend adding some fresh or roasted garlic to a block of butter, and melting it down yourself!
If you're looking to try out a mouth-watering garlic bread recipe for your chicken side, then the recipe that we have linked here will be of interest to you.
Final Thoughts
So, as you can see, there is no shortage of good recipes that go with chicken and spinach.
From simple cheesy flatbread to full-blown salad recipes, you have plenty of options to try out with this simple, yet an oh-so-tasty combination of poultry and leafy veggie.
So, which of these recipes will you try out first?
6 Delicious Sides To Serve With Spinach-Stuffed Chicken
Course: Sides
Chicken and spinach is a staple food combo for a main meal. But what exactly are you going to serve it with? Why, one of these side dishes, of course!
Directions
Pick a recipe from the list above
Click the recipe name and visit the website
Collect the ingredients and cook the food
Enjoy – don't forget to leave a review