While making cocktails, you may have noticed that many recipes call for orange curacao. So much so, you might think a recipe cannot be made without it.
The great thing about orange curacao is that not only can it be added to cocktails, but it is also a delicious drink to have with some ice cubes.
It can be annoying when it comes to creating a cocktail only to realize that you do not have any orange curacao to hand – or you cannot find it at your local liquor store.
When this happens, you might be wondering what you can use instead.
Fortunately, there are many orange curacao substitutes available. Therefore, read on to find out what you can substitute orange curacao for.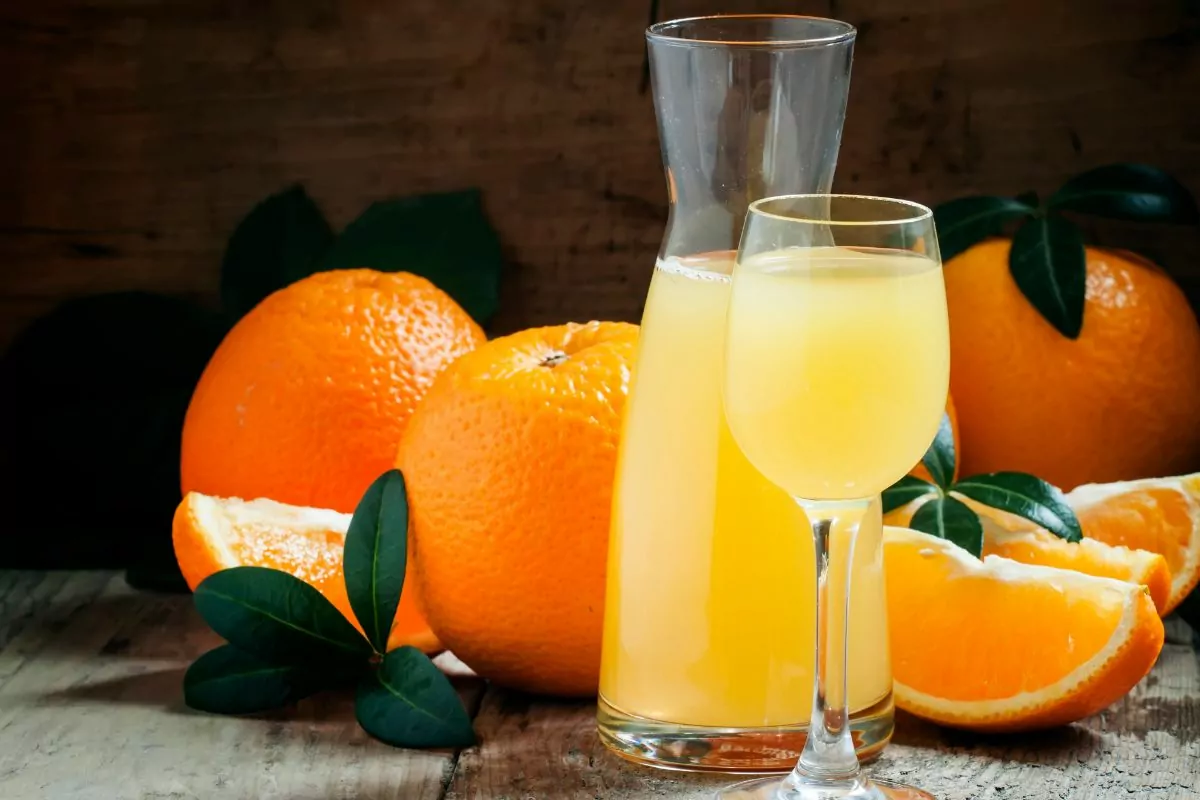 What Is Orange Curacao And What Is It Used For?
Orange curacao is a type of liqueur that has orange flavoring. While its origins are unknown, many people believe that it was first created in the 18th century by a Dutch colony near the coast of Venezuela.
Today it is often used in cocktails, but it can also be used to naughtily flavor something like ice cream, as well as beverages that are not alcoholic in nature.
The overall flavor of orange curacao has both sweet and bitter flavors. This is because the drink is created by using the bitter-tasting orange peel.
It is also full of spices as well. This creates a wonderful blend of warm and bitter-tasting notes.
The Best Substitutes To Use For Orange Curacao
Here are some of the best substitutes to use in place of orange curacao in your next cocktail:
1. Blue Curacao
If you are looking in your local liquor store for orange curacao and can only find blue curacao, then it may be worth picking it up.
The only difference between the two is the color. Orange curacao is orange, while this version is bright blue.
There is also another difference too, and that is in the alcohol percentage.
While orange curacao is often found at around 15 percent, blue curacao can often reach up to 25 percent. This does not mean that you cannot do a like-for-like substitute, however.
You can add blue curacao to a cocktail or a dessert in the same quantity amount as orange curacao. It is just best to be aware of any higher alcohol concentrations to drink safely.
Blue curacao can be a fun addition to any cocktail or dessert due to its wonderful color. It may even be quite surprising to people when they realize that it has a zesty orange flavor.
2. Gran Gala
Gran gala is a wonderful substitute for orange curacao because it makes a great base for many different cocktails. Not only that but despite it being a brandy, it has a strong orange flavor too.
Its origins lie in Italy. However, it is now a well-respected and enjoyed orange-flavored brandy all over the world that can be drunk straight or added to a cocktail.
But before you do that, you will want to give gran gala a big sniff. The smell is incredible and zesty.
Plus, the color of the drink is an amber shade that will add a mysterious look to your cocktail. This compliments all types of cocktails too, meaning that it is not too vibrant.
Grana gala is suitable to be substituted in a like-for-like fashion. However, the alcohol concentration is much higher at 40 percent.
This means that the cocktail will taste much stronger, so you may want to use less – unless you like the flavor strong.
3. Picon
While picon has a slightly different flavor combination compared to orange curacao, it does make a good substitute. It also tastes amazing in cocktails.
While orange curacao has a zesty and bitter-sweet flavor, picon has a blend of orange zest, caramel, herbs, and spices. All of these different ingredients make a warming base for any cocktail.
However, the reason you can use picon in place of orange curacao is that they both have orange notes. The only thing to keep in mind is that picon has an alcohol concentration of around 39 percent.
This means that the flavor will appear stronger. If you do not mind this then you can add the same amount to a cocktail as you would the orange curacao.
Although, you will want to taste the picon first to figure out exactly how much to add due to its unique flavor.
4. Grand Marnier
Grand marnier is another great substitute for orange curacao. While its base is brandy, it does have a very strong orange flavor that is very distinct.
Even so, it has a very similar flavor profile to orange curacao due to both being made from the bitter peels of oranges.
However, grand marnier also includes zesty peels from other fruits too, making it extra fruity compared to orange curacao.
You might find that this substitute has a much stronger orange flavor compared to the original cocktail ingredient, orange curacao.
Despite this, you can substitute like-for-like. If you do not like the strong flavor of grand marnier, then you can always add less to your cocktail. Also, grand marnier has a higher ABV of 40 percent.
This alone might make you want to add less! However, you may enjoy the intense citrus flavors and choose grand marnier over orange curacao, even when you find the latter back in your local liquor store.
5. Aurum
Aurum is another great option when looking for an orange curacao substitute. The makeup of aurum includes brandy, which is very different from orange curacao. However, the overall flavor profile is orange.
It is often described as being very sweet with a citrusy twist. This makes it quite refreshing and nice to drink straight, or mixed into a cocktail for extra oomph.
However, aurum is quite strong when it comes to its ABV percentage. More often than not you will find aurum is around 40 percent in concentration.
When using it as a substitute, keep this in mind when using a like-for-like ratio.
Aurum has Italian origins, but this does not mean that you will not be able to find this drink made in other countries.
6. Tripel Sec
Lastly, we thought we would give you the substitute which is the most like orange curacao – triple sec.
Triple sec is often used in place of orange curacao. This is because they both have a very similar flavor profile.
There is only a minor difference when it comes to their overall flavor. So much so, it is unlikely that you or anyone else will notice. The main flavor of the triple sec is orange, and so is the flavor of orange curacao.
Triple sec is clear in color, however. So if you are hoping for an orange-colored cocktail, then you will not achieve it with triple sec.
Having said that, this should not cause any problems with the final look of the cocktail – well, that is unless you wanted it to be orange in color.
Also, the alcohol percentages are different too. You may find that orange curacao has a lower concentration of around 15 percent, whereas triple sec can often reach up to 40 percent. Keep this in mind when creating a cocktail.
Final Thoughts
Just because you do not have any orange curacao to hand, it does not mean that you cannot finish creating the perfect cocktail. There are many substitutes available, it is just knowing what to pick.
You might find that you have one of the above substitutions already available in your drinks cabinet. Or, one of the above substitutes may be easier to get ahold of than the orange curacao at your local liquor store.
Whatever the reason you do not have any orange curacao to hand, there is a substitute available.
If you have found this article helpful, why not check out the rest of the website? You will find lots of information when it comes to substitutes and ingredients in general.
6 Of The Best Substitutes For Orange Curacao
Course: Substitutes
Ingredients
Blue Curacao

Gran Gala

Picon

Grand Marnier

Aurum

Tripel Sec
Directions
Decide on what substitute you need
Pick a substitute from the list above
Read what you need to substitute with
Create the recipe and enjoy