Many people won't be familiar with chapagetti unless you have come across a selection of viral videos on YouTube.
Namely, Korean mukbang videos! These are "eating shows", incredibly popular videos that are featured on various social media platforms.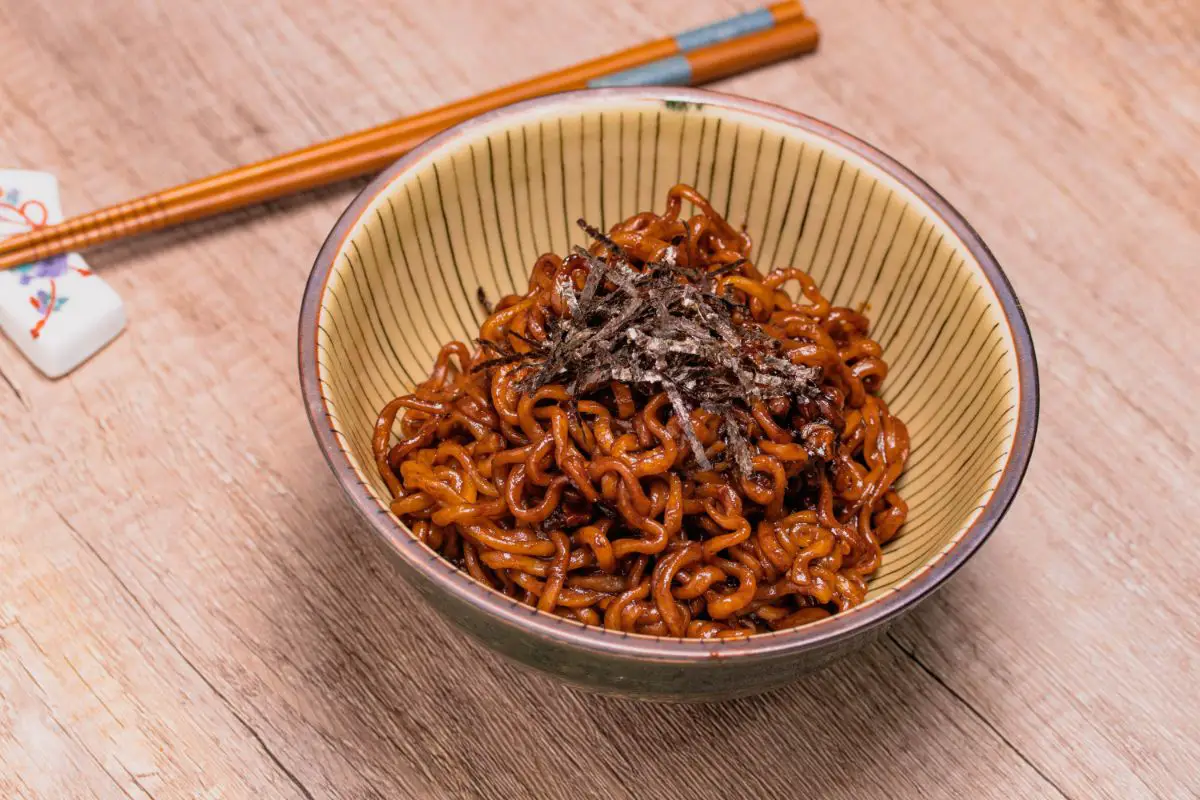 This dish is very popular in many countries, but has yet to grow in popularity in much of the Western world.
If you want to know more about chapagetti, including what exactly it is, how it can be used, and how it tastes, read on!
We will also cover what you can serve with chapagetti to make it an unforgettable meal, so be prepared to take notes. 
Chapagetti: What You Need To Know
What Exactly Is Chapagetti?
Chapagetti is actually a type of instant noodle dish! It has many similarities to Italian spaghetti (hence the name), and also the black soybean paste that is frequently used in Chajang or China.
This fusion comes from the company Nongshim, a famous Korean brand, and is incredibly popular. 
While this food has actually been around for decades in South Korea, it has only recently become a sensation!
The packets come with delightfully thick noodles that are perfect for soaking in the black bean sauce. 
You may also get a packet of powder flavoring to add to the dish, too. These dishes are usually served with diced carrots, onion, potato chunks, and even pork to create a full meal.  
How Is Chapagetti Used In Cooking?
Chapagetti is used just like any other instant noodle pack! You do not need to do anything special with it, and the cooking instructions are easy to follow.
It only takes around 10 minutes to prepare this convenient dish, and two distinct ways you can cook the dish depending on your preferences. 
The dish is typically eaten with chopsticks, but you can use any utensil you like if you are not used to using chopsticks! Simply cook everything, dish it up in a bowl, and enjoy it nice and hot. 
What Does Chapagetti Taste Like?
Chapagetti is similar to the noodle dish Jajangmyeon, but there are also some distinct differences to note. Between the two, chapagetti is more likely to be more tender and have a more mild flavor.
Although the noodles are thicker, the black bean sauce is lighter and thinner, and coats every noodle to perfection. 
Since chapagetti is a type of instant noodle dish, the black bean sauce doesn't come in liquid form. Instead, it is granulated and comes in a packet.
When water is added to it, it will turn into a sauce with the correct consistency. 
The vegetable mix that comes with the instant noodles consists of onions, carrots, and potato chunks.
This is done to try and replicate the usual foods that this dish would be served with when fresh, so it gets all the right flavors across. 
The closest thing that chapagetti tastes like is the aforementioned Jajangmyeon.
However, it has been altered to suit an instant noodle form. Because of this, there are some key differences in the flavor and depth of the dish – but it is still delicious! 
Chapagetti is a delightful mix of sweet and spicy. However, it is not as spicy as Jajangmyeon, and is considerably less salty.
It will have a much milder flavor compared to the original dish, which may actually make it more popular among people who prefer these kinds of flavors. 
As you might expect, the sauce is thinner compared to Jajangmyeon, too. However, this means that it coats the noodles very well, so you can get great flavor in every mouthful. 
Don't expect the noodles to be as thick and chewy as they are in the original dish, either! Again, this could be a good or bad thing, depending on your overall preferences.   
How To Cook Chapagetti
Cooking chapagetti is super easy and quick, and it's almost impossible to mess up! The instructions on the packet are usually very clear and easy to understand.
However, we will go through how to cook it easily right here, just in case you don't have a packet at hand when you need it.
We will go through the cooking methods below, so you know exactly what to do if you ever get your hands on this delicious food. 
1. Microwave Cooking Your Chapagetti
This is the fastest way to cook chapagetti, and will get you great results every time, as long as you time everything correctly!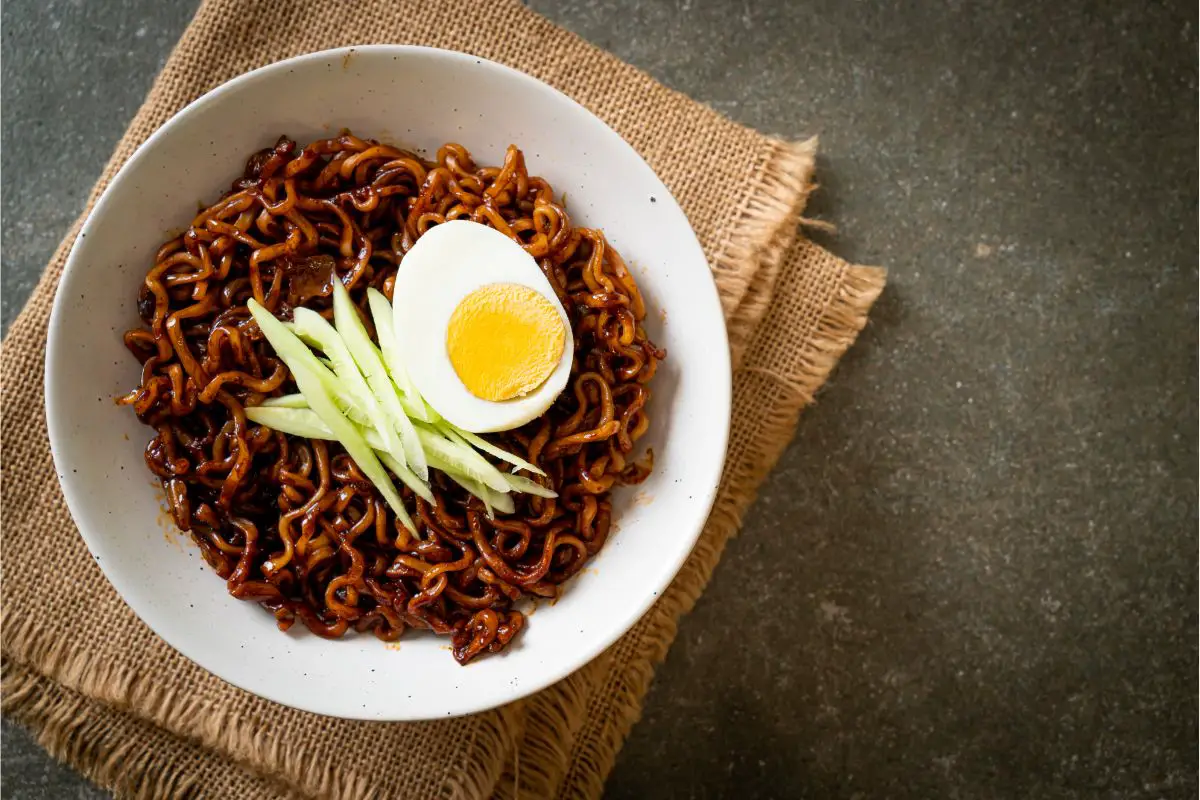 All you need to do is follow the steps set out below:
In a microwave-safe bowl, add the vegetable oil, vegetable mix, and sauce
Place the noodles on top of the bowl contents, and all 1 and a ⅓ cups of water to the bowl
If you use hot water, cook the chapagetti for 5 minutes. If you use room-temperature water, cook the food for a total of 8 minutes. Make sure to cover the bowl with something that is microwave-safe
Allow the noodles to cook thoroughly
Mix everything together and coat the noodles with the contents of the bowl
Enjoy your dish!
2. Using The Stove Top To Cook Your Chapagetti
Alternatively, you can cook your chapagetti on the stove top, simply using a saucepan.
This is incredibly easy, too, and you can get great results by following these simple steps:
In a saucepan, pour 1 and ½ cups of (hot) water
Add your noodles, along with vegetable oil, the vegetable mix, and sauce to the saucepan
Bring it to the boil, then allow it to simmer for 5 minutes. Ensure that you stir the pot frequently to avoid anything sticking to the bottom of the saucepan. 
Keep cooking until the sauce is the consistency you like
Serve and enjoy!
What Can You Serve With Chapagetti?
Since chapagetti is an instant noodle dish, you have a lot of freedom when it comes to deciding what to serve with it, and even how much you would like to make.
You can make one packet, or more, depending on how hungry you are. 
While you could stick to the basics, there's no fun in that! You can try out all kinds of different toppings to make your dish even more delicious.
There are a few popular options that you can test out, but don't be afraid to push the boat out and experiment. 
We will go through some popular toppings that you can enjoy with your chapagetti below.
Kimchi
Kimchi is simply salted and fermented vegetables such as cabbage. This is a popular side dish in east Asian countries, and is a real delight to try.
You can either purchase it in the store, or you can make it yourself!
This dish will have a delicious mix of flavors from ingredients like ginger, garlic, and chili. Overall, you can expect kimchi to be salty and sour, but also spicy and savory. 
Simply add some kimchi on top of your chapagetti, and enjoy! It will really bring out the flavors of the dish. 
Seaweed
Seaweed is another popular option for people who love the taste of it. If you are not familiar with seaweed, it has a salty flavor with a delightful umami taste.
Textures can vary depending on the type you go for, and some are crunchy, while other options are rubbery. 
Some seaweed will also have a more fishy flavor, while others less so.
Think about what you like, and pick a seaweed you think you can enjoy. If you have never tried seaweed before, we would recommend starting with a milder option rather than jumping in the deep end – it can be a lot!
Pork
Finally, pork is a great addition to chapagetti.
This can come in the form of pork belly slices, pork mince, or even bacon if you really want! It adds some depth to the dish, and will make it more filling with the meat. 
Season it however you like, but simply using the black bean sauce with the pork while cooking will result in a delightfully flavorsome and moist dish. You can't go wrong!
Final Thoughts 
Chapagetti is a mix between Italian spaghetti and Jajangmyeon, with a delicious black soybean sauce and rich flavoring. It's incredibly easy to make, and you only need around 10 minutes from start to finish!
If you ever try this dish, you should expect some lovely spiciness, but also sweetness. It's less salty than Jajangmyeon, and has a milder flavor, but it's still absolutely delicious, and the noodles are to die for!
Chapagetti: What Does It Taste Like, And Does It Taste Good?
Course: Taste Like
What is chapagetti? What does it taste like? Read this article to find out everything you need to know about this food, and also what you can serve with it!
Ingredients
Chapagetti

Ingredients from your favorite recipes
Directions
In a saucepan, pour 1 and ½ cups of (hot) water
Add your noodles, along with vegetable oil, the vegetable mix, and sauce to the saucepan
Bring it to the boil, then allow it to simmer for 5 minutes. Ensure that you stir the pot frequently to avoid anything sticking to the bottom of the saucepan.
Keep cooking until the sauce is the consistency you like
Serve and enjoy!